49ers trade up for Dante Pettis, NCAA record-setting punt returner
Apr 27, 2018 at 5:43 PM
•
--
Dante Pettis, a NCAA-record setting punt returner, prompted the 49ers to trade up and take him in Thursday's second round of the NFL Draft.
Facebook Comments
More San Francisco 49ers News

A dark-horse trade candidate for the 49ers ahead of the 2022 season
For much of the offseason, many 49ers fans have believed the team will move on from quarterback Jimmy Garoppolo, either via trade or release. However, three months after the beginning of the 2022 league year, the veteran signal-caller still remains a member of the franchise as he rehabs from shoulder surgery. Additionally, at the linebacker position, many have clamored for the 49ers to trade Dre Greenlaw, given that he's a free agent in 2023 and currently carries a cap hit of $2.54 million after signing his tender as a restricted free agent. Fellow linebacker Azeez Al-Shaair broke out last season while Greenlaw missed 14 games due to multiple injuries, creating a formidable duo at the position with former All-Pro Fred Warner. However, there's a dark horse trade

Fowler: 49ers' Deebo Samuel hasn't rescinded trade request
Deebo Samuel attended the San Francisco 49ers' mandatory minicamp earlier this month but did not participate in the practices. General manager John Lynch and head coach Kyle Shanahan continued to share their optimism that the 49ers will sign Samuel to a contract extension despite the wide receiver requesting a trade earlier in the offseason. Samuel's willingness to report to the mandatory minicamp gave the impression that there is hope that the rift between player and team can be resolved and that a contract extension might come before training camp. However, ESPN's Jeremy Fowler reports that nothing has changed regarding Samuel's stance. "I'm told status quo is really when he reported to minicamp; that's the last piece of news that we have here," Fowler said

Realistic trade candidates for 49ers QB Jimmy Garoppolo following surgery
The latest news on San Francisco 49ers quarterback Jimmy Garoppolo was revealed earlier this week, as ESPN's Jeremy Fowler reported that Jimmy Garoppolo is on schedule with his recovery from a surgically-repaired shoulder and is expected to throw soon, while NFL Network's Mike Giardi added that the quarterback hopes for a "quick resolution after proving to teams that he's fully healthy. With the quarterback market essentially settled, and a resolution seeming imminent, be it a trade or a release, what teams are currently realistic trade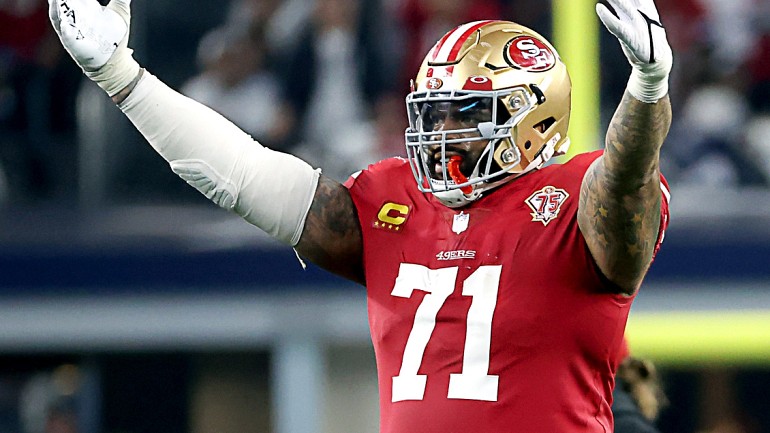 NFL analyst believes 49ers' offensive line has "high-end potential"
The San Francisco 49ers have faced some serious roster turnover with their offensive line, as left guard Laken Tomlinson went to the New York Jets in free agency, while center Alex Mack chose to retire after one season with the organization. In addition, right tackle Mike McGlinchey is coming off a torn quadriceps injury that sidelined him for the second half of the 2021 NFL season, although head coach Kyle Shanahan believes the Notre Dame product should be ready for training camp. Earlier this week, PFF's Mike Renner conducted his offensive line rankings for 2022 with several tiers: Minor or no weaknesses(tier 1), high floor(tier 2), high-end potential(tier 3), at
Featured
Trending News
49ers Webzone • Jun 28

49ers Webzone • Jun 28

49ers Webzone • Jun 29

49ers Webzone • Jun 28

49ers Webzone • Jun 30

49ers Webzone • Jun 30