Jimmy Garoppolo Got All the Money After Five Starts
Feb 8, 2018 at 11:00 AM
•
--
Jimmy Garoppolo
has been signed to a big longterm deal by San Francisco after turning the team around in his five starts.
Facebook Comments
More San Francisco 49ers News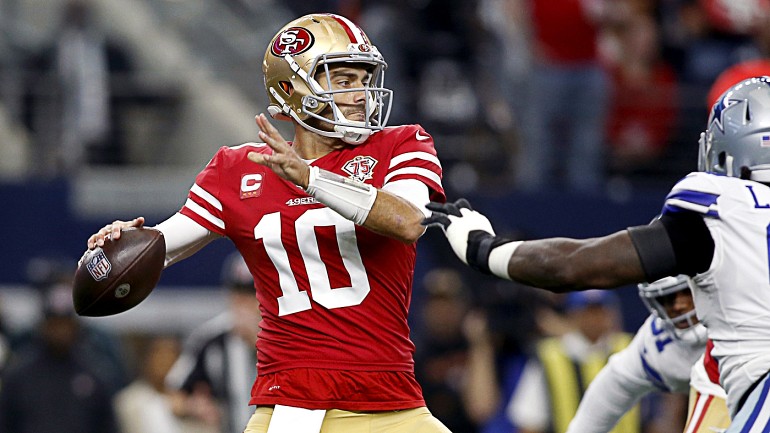 NFL analyst believes Jimmy Garoppolo starts for 49ers after hearing more about Trey Lance doubt
Ryan Harris, a former offensive lineman turned broadcaster and analyst, joined CBS Sports HQ to discuss the young quarterbacks of the San Francisco 49ers and Chicago Bears. He was asked which passer—Trey Lance or Justin Fields—finds himself in the best situation. Harris' answer? Lance, who is on a roster coming off an NFC title game appearance. However, there is one caveat to that answer. "But I'm here to tell you, after people I've talked to, everyone I've spoken to expected Jimmy Garoppolo to start [Week 1 against the Bears]," Harris said. There has been an offseason narrative that Trey Lance is not yet ready to step into the starting role for a team built to win now. Of course, those who follow the 49ers closely realize that if that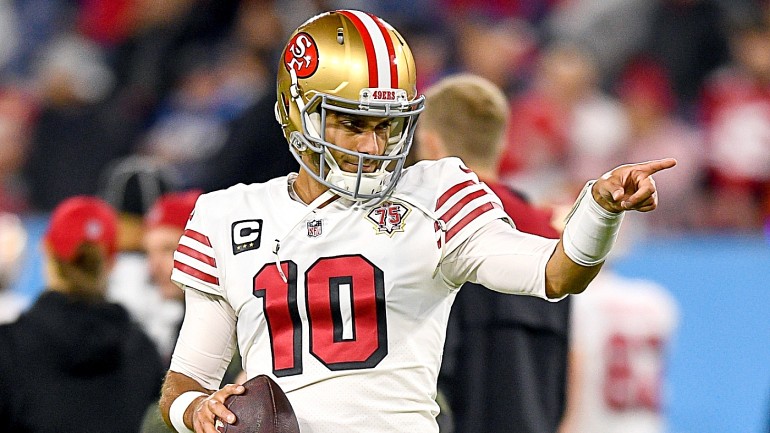 Breer: Jimmy Garoppolo's 49ers fate dependent on Trey Lance's offseason development
Jimmy Garoppolo has remained on the San Francisco 49ers roster far longer than anyone expected or predicted. The Niners have tried to trade the veteran, clearing the way for second-year quarterback Trey Lance. However, offseason shoulder surgery halted trade discussions, and the 49ers, for now, appear stuck with Garoppolo and his hefty salary. The 49ers have maintained that they are comfortable holding onto Garoppolo if they cannot strike a deal to their liking. Everyone realizes, though, that Plan A is to trade the quarterback for something worthwhile rather than letting him fulfill his contract on the team and leave as a free agent in 2023. Releasing Garoppolo would also net them nothing, aside from salary cap space. Holding onto Garoppolo might happen. Most of

Ross Tucker believes 49ers QB Jimmy Garoppolo to Panthers remains a possibility
Former NFL offensive lineman turned sports broadcaster and analyst Ross Tucker doesn't "believe for a second" that the Carolina Panthers and Seattle Seahawks will enter Week 1 of the 2022 season with one of their current quarterbacks as the starter. Instead, he feels both teams will make a move to prevent that from happening. I don't believe for a second that the Panthers & Seahawks are going into Week 1 with their current QBs on the roster.— Ross Tucker (@RossTuckerNFL) May 16,

Should QB Jimmy Garoppolo play another snap for the 49ers?
The 2022 NFL Draft has come and gone, but San Francisco 49ers quarterback Jimmy Garoppolo remains on the roster as he rehabs from a shoulder injury that required surgery in early March. For the past year, it has seemed apparent that the organization would move on from its veteran quarterback, as the 49ers were involved in talks with a number of free-agent quarterbacks last offseason, most notably Andy Dalton, and were also in the Matthew Stafford sweepstakes before the Rams ultimately traded for the longtime Lion. Eventually, the 49ers moved forward with a pre-draft trade, moving three first-rounders and a third-rounder in exchange for the third overall selection, which the team ultimately used on Trey Lance, who started two games in 2021. Garoppolo
Featured
Trending News
49ers Webzone • May 23

49ers Webzone • 9 hrs

49ers Webzone • 6 hrs

49ers Webzone • 10 hrs

49ers Webzone • 12 hrs

49ers Webzone • May 23