The weekly film threads will be merged into this thread so that at the end of the year there is a compilation to see how the season unfolded. This is the armchair coach thread.
Links to the beginning of each merged thread:
Game 1: vs Panthers - Post #2
Game 2: @ Seahawks -
Post #216
Game 3: vs Rams -
link
Game 4: @ Cardinals -
link
Game 5: @ Colts -
link
Game 6: @ Redskins -
link
Game 7: vs Cowboys -
link
Game 9: vs Cardinals -
link
Game 10: vs Giants -
link
Game 11: vs Seahawks -
link
Game 12: @ Bears -
link
Game 13: @ Texans -
link
Game 14: vs Titans -
link
Game 15: vs Jaguars -
link
Game 16: @ Rams -
link
Some common terms that will be associated with the 2017 49ers are listed below.
Head Coach Kyle Shanahan will be installing his form of the West Coast Offense with the primary traits being a timing based ball control passing game, a large variety of personnel/formation, and an outside zone run scheme. It will use lots of presnap motion to manipulate defensive formations and to create mismatches. Core WCO passing concepts are seen throughout his playbook such as Drive, Sticks, and Slant-Flat.
Outside Zone Run: A run blocking concept that can be recognized by seeing all 5 OLmen run in unison towards a sideline. With well timed, movement based blocks, gaps to run through appear.
Triangle Stretch: A 3 route combination, run in a variety of ways, that causes a vertical stretch and a horizontal stretch. A staple concept in Bill Walsh's playbook, it tries to create a 3v2 outnumbering situation that favors the offense.
Red + Orange create a vertical stretch. Orange + Yellow create a horizontal stretch.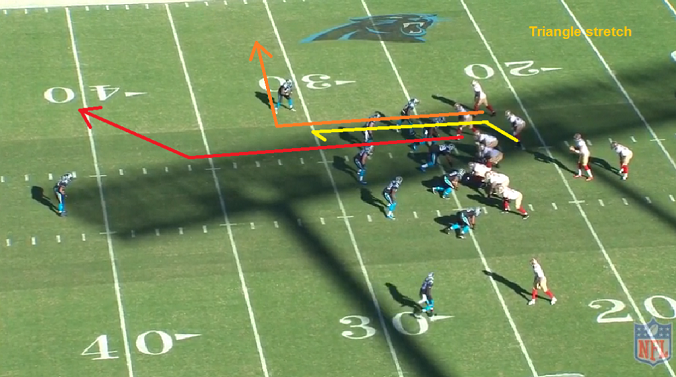 Defensive coordinator Robert Saleh will be bringing back a base 4-3 defensive scheme. A defense the 49ers have not run as base since 2004, the year prior to Nolan becoming coach. It will be a one gap scheme that asks its down linemen to penetrate and disrupt. With Saleh's coaching background, the 49ers are projected to play a zone dominant coverage scheme that adopts a 'bend don't break' philosophy.
Cover 3: A zone coverage with 3 deep zone defenders and 4 underneath zone defenders (+4 pass rushers). The three deep defenders are to prevent the big play. Able to put 8 defenders in the box for run defense. Variations of Cover 3 provide different strengths and weaknesses (Sky, Buzz, Cloud).
Cover 1: A man coverage defense with 1 deep safety. 5 defenders assigned to each route runner in man coverage (+4 pass rushers). The last defender can be used to blitz, play an underneath zone (robber), spy the QB, or double cover a WR. The leverage (inside/outside positioning) that a man coverage defender wants to play with will depend on where the WR is lined up, and where the defender has help (team mate/sideline).
These concepts, and others, are described in the NinerTalk thread linked below as well as the web.
Coverages & Concepts
[ Edited by thl408 on Feb 21, 2018 at 2:07 PM ]