No Explosive Crabtree plays yet, but good production
There are 107 users in the forums
No Explosive Crabtree plays yet, but good production
Nov 2, 2009 at 7:05 PM
#106
Nov 2, 2009 at 7:18 PM
#107
Originally posted by fzrdave:


Originally posted by Ninerjohn:
Maybe no explosion yet but all you have to do is watch him for 30 minutes on the field to know he has "it". It would be great to be able to pair him with someone like DeSean Jackson who can take it the distance on any play. Having a speed threat on the other side would even make Crabtree that much better. Hopefully, the Niners will be able to find that guy. Or.. maybe Morgan or Hill can develop if really given the chance.


What is even more impressive about him is that he's showing that he has "it" in his first two games. WRs typically take a season or two to develop, but he has hit the deck running. He looks like he's going to be a very special player, maybe even Patrick Willis special.
Agree. I'm so glad we got this guy. He is only going to get better as the season goes!
Nov 2, 2009 at 7:38 PM
#108
Originally posted by IdentityCrisis:


Originally posted by jreff22:


Originally posted by MadDog49er:


Originally posted by ghostrider:
Crabtree: 68.5 yds/game

DHB: 9.3 yds/game





Crabtree had more catches and receiving yards in this game alone than DHB's total catches and yards for the year.


Raiders=epic failure




anyone see the highlight where two of their WR run into each other?
Yes !!
I watched it over a couple times and got a few extra laughs. That was pathetic.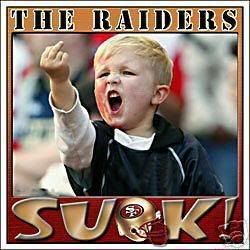 Nov 2, 2009 at 7:42 PM
#109
I think he is going to get his first TD against the Titans. 49ers need to win 4 of the next 5 games to set up the Arizona Game on Monday nite as a winner takes all game
Nov 2, 2009 at 11:24 PM
#110
I hate to agree with Deion Sanders that snow is white, but he tagged it when he said Crabtree could be something special for this team.
Now would somebody tell Jimmy Raye?
GET THE BALL TO THE GUYS WHO CAN MAKE PLAYS!
See how easy it is?
[ Edited by Ohio49er on Nov 2, 2009 at 23:25:29 ]
Nov 3, 2009 at 6:59 AM
#111
Crabtree has shown better hands, then Jerry Rice as a rookie. He reminds me of Marques Colston, but has yet to be sent deep
Nov 3, 2009 at 8:19 AM
#112
The kid will get nothing but better...and the more he and Alex establish chemistry, it'll be sooner rather than later, a testament to both guys. It also shows how committed Tree is...he was in great shape when he signed...and couldn't be contributing like he is so soon were it not for his work ethic. Al Davis...eat your freakin' heart out, baby!
Nov 3, 2009 at 10:36 AM
#113
I dunno my conservative side stops me from comparing Crabtree to Colston and Rice, however you can't deny that he's played real well thus far. Funny how Davis is getting more open now that Crabtree's on the field with him. He's good; and as it turns out either Oher or Crabtree would have been great picks for the 49ers this year. I'm hoping Smith can become a competent QB so we don't feel we have to use a high pick next year on one and grab another OT.
No Explosive Crabtree plays yet, but good production