While I normally try to avoid trades, I can't help but feel like some are coming this year so here's my best shot at coming up with a few including players that I think will fill vital needs, short and long term.
Round 1-Pick 13
-49ers trade down with the Miami Dolphins, picking up Miami's pick #18 and pick #70 in the 3rd round. Miami moves up to take one of the last of the remaining top tackles on the board in Wirfs or Becton.
Round 1-Pick 18
-49ers trade down with the Minnesota Vikings, picking up Minnesota's pick #22 and their comp pick in the late 3rd, Pick #105. Minnesota jumps up to solidify their top WR choice in Justin Jefferson ahead of the WR hungry Eagles. A duo of Jefferson and Thielen gives the Vikings a versatile duo of pass catchers that can win in all areas of the field.
Round 1-Pick 22-Yetur Gross-Matos-DE-Penn.
I can already hear some people groaning but YGM is solid value at this point in the draft and would help to fortify a strength from last season. The 49ers made it to the playoffs and the SB largely on the backs of their pass rush and run game. Gross-Matos is a move towards locking in that advantage long term. Not only would he give Kocurek, who loves a deep rotation, outstanding depth at edge rusher but now you have both Ford insurance and his long term replacement in-house. You could even run all three out on the field at the same time on passing downs, putting either Bosa or YGM at 3T to throw offenses a different look. While he's not the lightning quick edge that some may be looking for YGM gives you a true three down DE that can thrive against the run and against the pass. Having him work with Bosa in upgrading his pass rush arsenal could help in fully unlocking his potential Snatching him up also deprives Seattle of what is widely considered to be their more likely choice to fill up their pass rush woes.
Round 1 Pick 31-Brandon Aiyuk-WR-ASU
. Better prospect than Harry was last year and a natural fit for this offense. There's a good chance that Aiyuk is gone by this point but if he's still on the board, he makes all the sense in the world for the 49ers. He'd be a nice complement to Deebo and Kittle, another threat that can win quickly and create huge plays through his ability to pick up yards after the catch. I don't see that much separating him and many of the receivers that came before him. He wouldn't have pressure on him to deliver as a #1 WR and Shanahan could run some of the same packages for Aiyuk as he's done for Deebo. If Taylor and Hurd can return to health, 49ers should be set at WR for years to come.
Round 3-Pick 70-Matt Hennessy-C-Temple.
Perfect fit as a zone blocking center. Athleticism, outstanding football IQ and instincts, he's what you're looking for in this offense. Hennessy instantly provides valuable depth and could challenge as a potential starter at guard. The long term solution at center as an eventual replacement for Richburg. Has been in leadership positions going back to his early days in high school.
Round 3-Pick 105-McTelvin Agim-DT-Arkansas.
Provides a replacement for Buckner, at least on passing downs. Akim spent most of his time in college at DE so he's still a work in progress but he comes with very good athleticism, an explosive first step, and a nonstop motor to develop into a solid penetrating 3T. He was really the only defensive player of note for the Razorbacks so he drew a ton of attention from opposing offenses and still managed to make plays consistently. Well regarded for his leadership ability and was chosen as a team captain.
Round 5-Pick 156-Dane Jackson-CB-Pitt.
He is someone that has grown on me. He's a confident, hard-nosed player who isn't shy about mixing it up with bigger receivers, was highly productive throughout his college career and is a very good overall fit for a Cover 3 scheme. Doesn't have jaw-dropping athleticism but plays a smart and tough brand of football. Was a permanent team captain.
Round 5-Pick 176-J.R. Reed-SS-Georgia
Son of former NFL WR Jake Reed. Potential replacement for Marcel Harris. Experienced college starter and team captain. Won't dazzle physically or athletically but is smart, plays disciplined and can also contribute on special teams.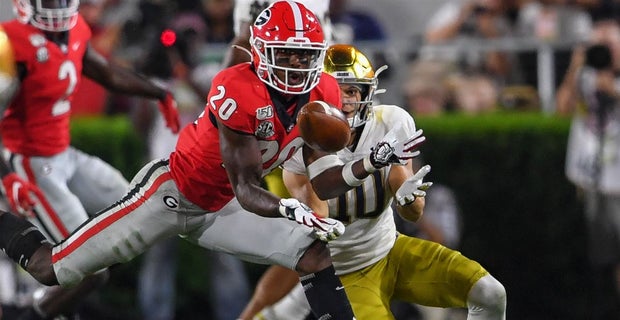 Round 6-Pick 210-Josiah Deguara-TE/FB-Cincinnati
. Can provide depth at talent as well as insurance for Juice. An able and willing blocker at TE, Deguara is a well rounded prospect, an intense competitor and a team captain, he could contribute instantly on special teams and as a #3 TE.
Round 7-Pick 217-Kyle Hinton-OG-Washburn.
Small school lineman who has had a very good offseason. He's someone that the 49ers have shown interest in and has the athleticism and football IQ to work as a lineman in this scheme. At this point in the draft, he's worth a shot, either as a developmental prospect that works his way onto the roster or a guy to continue working with on the practice squad.
Round 7-Pick 245-Aaron Parker-WR-Rhode Island
. One of two well regarded WR prospects from Rhode Island this year. Parker has the size, physicality and agility to work well in this offense as a big slot receiver. He's an eager run blocker and a capable redzone threat. Another team captain.