Google and Apple may compete for naming rights to new 49ers stadium
The San Francisco 49ers are currently in the early construction stages of their new stadium to be located in Santa Clara, California. The venue will be the first new football stadium in California since the 1960s. While the stadium itself will not be opened until the 2014 or 2015 season, two local companies are already planning to bid on the naming rights.
Google, which is located in Mountain View, and Apple, which is located in Cupertino, are considered the frontrunners for the naming rights to the new stadium. The rights could bring in hundreds of millions of dollars in new revenue.
Word is that both tech companies could have conditions attached to their bids. Google would like to be able to track fan movement and habits within the stadium and store fan data for future use, a practice that could be expanded to other sports venues at a later date. Apple, hoping to limit use of the competition, would like to have their mobile products take priority over other devices while within the stadium and offer enhanced viewing options to fans at the games.
Google Stadium or Apple Stadium (assuming those would be the names)? Let the bidding war begin.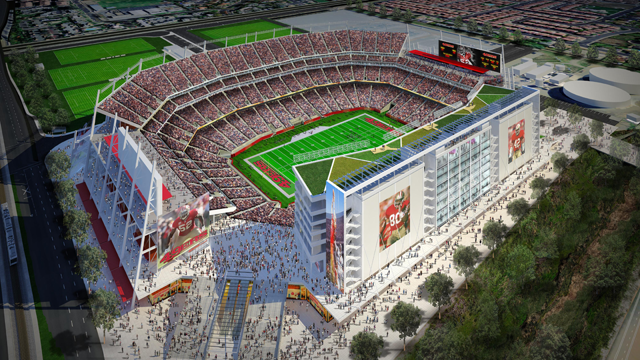 The new 49ers stadium will be built near the Great America amusement park.