Newswire
Source: 49ers close to a deal with Mike Wallace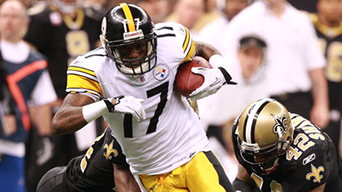 Wide receiver Mike Wallace was drafted in the third round by the Steelers in 2009
Pittsburgh, Pennsylvania - It looks like Mike Wallace has a suitor after all. The San Francisco 49ers are reportedly close to a blockbuster multi-year deal with the restricted free agent. Sources say the deal is reportedly a 6 year, 105 million dollar deal. There is no word yet, on how much of the contract is guaranteed.
If the report is correct, it would place the annual average for the deal at 17.5 million, which is even higher than Larry Fitzgerald's 15 million per-year average. Wallace would be amongst players like Peyton Manning, Tom Brady, and Eli Manning in per-year earnings, while not having done much to merit that kind of elite company.
Because Wallace is a restricted free agent, the 49ers must also forfeit their first-round pick, 30th overall, if the Steelers decline to match the offer.
At just 25 years old, Wallace, known as "The Shark" because of his hair, could be the missing piece on a 49ers team that reached the NFC Championship game last season. He would be a very effective decoy, given Alex Smith's aversion to throwing the ball more than 12 yards.
Or perhaps this is just the 49ers way of compensating for Smith's penchant for overthrowing his deep targets. Wallace's speed means he can get under all those off-target throws.
Neither the 49ers nor the Steelers were available for comment.