Videos are auto-populated by an affiliate. This site has no control over the videos that appear above.
Season Record: 91-69
49ers Picks Record: 4-6
Best & Worst Picks of Week 11
My Best Pick: Titans 27- Ravens 19
Final Score: Titans 30 - Ravens 24
My Worst Pick: Patriots 16 - Texans 9
Final Score: Patriots 20 - Texans 27
Week 12 Picks
Houston Texans at Detroit Lions (+2.5) -
Texans ride Watson to a road win
Texans 24 - Lions 20
Washington Football Team at Dallas Cowboys (-2.5) -
The legend of Alex Smith prevails again
WFT 20 - Cowboys 17
Baltimore Ravens at Pittsburgh Steelers (-4) -
Steelers suffer their first loss due to turnovers
Ravens 27 - Steelers 16
Arizona Cardinals at New England Patriots (+2.5) -
The Patriots keep their season alive by stumping Murray
Patriots 33 - Cardinals 20
Carolina Panthers at Minnesota Vikings (-4.5) -
Cousins can't keep this act up forever
Panthers 27 - Vikings 13
Cleveland Browns at Jacksonville Jaguars (+6.5) -
Another soft opponent for a deceiving Browns team to beat
Browns 23 - Jaguars 15
Los Angeles Chargers at Buffalo Bills (-5.5) -
Chargers can't quite seal the deal on this one
Bills 27 - Chargers 24
Miami Dolphins at New York Jets (+6.5) -
The march towards 0-16 continues
Dolphins 37 - Jets 16
New York Giants at Cincinnati Bengals (+5.5) -
Bengals can't win without Joey B
Giants 20 - Bengals 17
Tennessee Titans at Indianapolis Colts (-3.5) -
Titans defense proves it's the best in the South
Titans 19 - Colts 16
Las Vegas Raiders at Atlanta Falcons (+3) -
Raiders run all over a hapless Falcons defense
Raiders 34 - Falcons 14
New Orleans Saints at Denver Broncos (+5.5) -
Broncos shouldn't even play this game, no QB no chance
Saints 24 - Broncos 3
Kansas City Chiefs at Tampa Bay Buccaneers (+3) -
Old man Brady can't keep up with the best QB in the game
Chiefs 28 - Bucs 16
Chicago Bears at Green Bay Packers (-7.5) -
Rodgers is back to form against a fading Bears squad
Packers 27 - Bears 12
Seattle Seahawks at Philadelphia Eagles (+5) -
Tougher than it should be, the Seahawks pull out a close one
Seahawks 23 - Eagles 19
San Francisco 49ers vs. Los Angeles Rams (-6.5)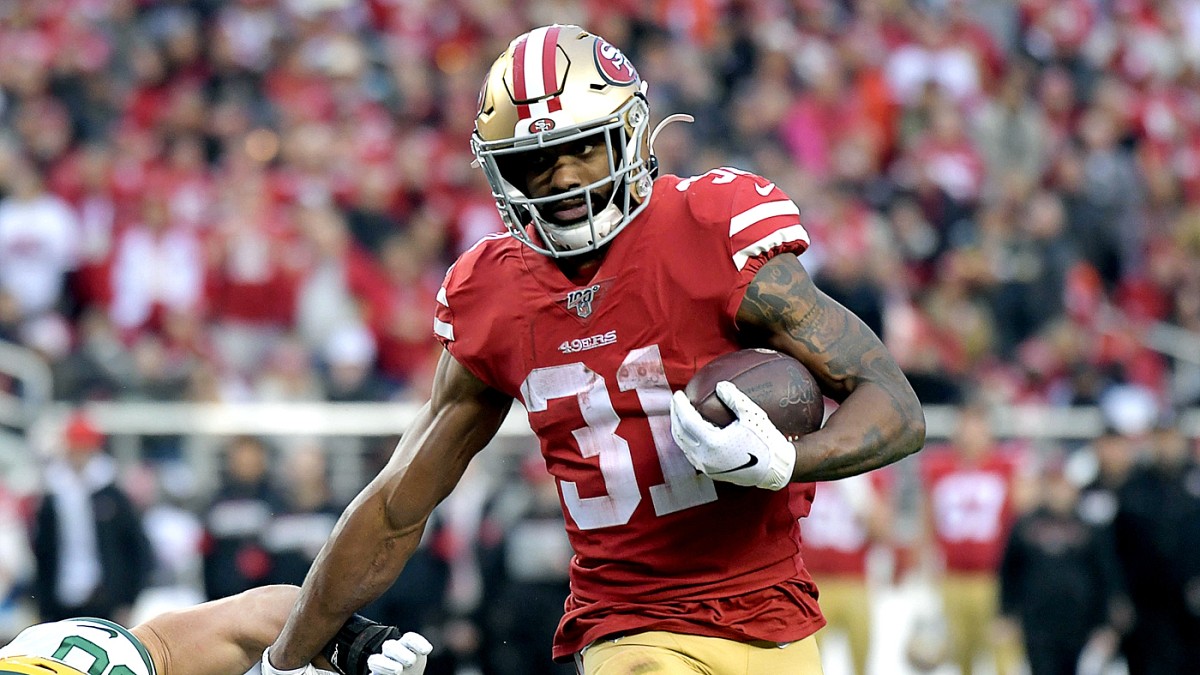 Why SF Wins:
The 49ers come into this matchup with some distinct advantages. They are coming off of a bye week, while the Rams played Monday night in a competitive game that went down to the wire. The 49ers hold one victory over the Rams already, a game in which Kyle Shanahan completely schooled the Rams defense with short passes and designed runs to WR
Deebo Samuel
. The 49ers' second year receiver has missed significant time this season, but it looks that he will return against LA on Sunday. He's not the only player set to return as the 49ers could be getting CB Richard Sherman and RB Raheem Mostert as well. A well-rested 49ers team, aided by the return of a few impact players, and with all the motivation in the world to keep its season alive, could pull off an upset on Sunday.
Why SF Loses:
No matter how well-rested they are, their QB is still Nick Mullens. Last time the 49ers faced the Rams they had Jimmy Garoppolo under center. These Rams are clearly the more talented roster at this point, and it's often difficult to sweep a division rival. The Rams sit atop the NFC West standings, knowing if they lose this game they could lose ground to the Seahawks who play a weak Eagles team in Week 12. The Rams should be fired up, have the talent advantage and are looking to exact revenge on a 49ers team that physically dominated them in their last matchup, completely shutting down DT Aaron Donald on national television.
Prediction:
The 49ers can run with the Rams, chalk it up to coaching or a matter of "styles make fights". They clearly are not the better team at this point, but DC Robert Saleh held these Rams to 16 points in their last matchup and play-caller Kyle Shanahan stumped their defense at every turn. This is a game the 49ers could win, but they just won't. The score will remain the same as their last contest, but the Rams will be the victor this time around.
Rams 24 - 49ers 16
Written by:

49ers outsider, residing in the Hudson Valley, representing 30+ years of the 49ers experience