Videos are auto-populated by an affiliate. This site has no control over the videos that appear above.
This week will be one that determines whether the 49ers should pack it in, or keep on fighting. In a prior article, I wrote that
if the 49ers managed to be 5-5 after 10 games,
they would have a chance to make the playoffs. The New Orleans Saints stand between the 49ers and any reasonable chance to compete for a playoff spot in 2020. Week 10 will be a big one. In Week 9 the 49ers disappointed, but my picks hit big. I hit on 9/13 of my picks, so let's keep that rolling and pick the Week 10 games:
Best & Worst Picks of Week 9
My Best Pick: Bills 43 - Seahawks 37
Final Score: Bills 44 - Seahawks 34
My Worst Pick: Buccaneers 41 - Saints 17
Final Score: Saints 38 - Buccaneers 3
Week 10 Picks
Indianapolis Colts vs. Tennessee Titans (Pick 'em) -
Titans have the better QB, get the W
Titans 23 - Colts 21
Houston Texans vs. Cleveland Browns (-3) -
Texans pull a slight upset due to Watson's magic
Texans 27 - Browns 20
Jacksonville Jaguars vs. Green Bay Packers (-13.5) -
Packers win a romp
Packers 38 - Jaguars 23
Philadelphia Eagles vs. New York Giants (+3) -
Giants with the baby upset due to a stellar defensive game
Giants 20 - Eagles 16
Tampa Bay Buccaneers vs. Carolina Panthers (+5.5) -
Bucs defense dominates bland Panthers
Bucs 26 - Panthers 10
Denver Broncos vs. Las Vegas Raiders (-4.5) -
Carr dominates Denver's defense
Raiders 33 - Broncos 23
Buffalo Bills vs. Arizona Cardinals (-2) -
Big game from Josh Allen makes the difference
Bills 37 - Cardinals 28
Los Angeles Chargers vs. Miami Dolphins (-2.5) -
Dolphins coaching gets them the W
Dolphins 28 - Chargers 25
Cincinnati Bengals vs. Pittsburgh Steelers (off the board) -
Could change due to COVID, but Steelers should take this one
Steelers 24 - Bengals 17
Seattle Seahawks vs. Los Angeles Rams (-1.5) -
Seahawks pull out a tight one
Seahawks 41 - Rams 38
Baltimore Ravens vs. New England Patriots (+7) -
Ravens run all over the Pats
Ravens 35 - Patriots 20
Minnesota Vikings vs. Chicago Bears (+2.5) -
Exposure of Bears continues on prime-time TV
Vikings 28
San Francisco 49ers vs. New Orleans Saints (-9)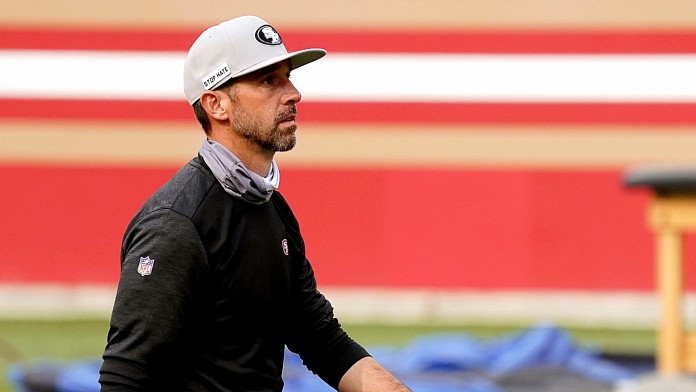 Why SF Wins:
For the 49ers to win this one, you have to dive deep into the mumbo-jumbo. Their only chances lie within the intangibles. Perhaps the 49ers get a huge boost from having extra time to prepare for the game coming off the mini-bye that is the game following a Thursday night game. Maybe the Saints fall for the trap game following a huge win over a division rival. To find a 49ers victory, you have to sift through the silly, and maybe everything breaks their way.
Why SF Loses:
New Orleans fields a better roster and has the better coach. Romanticize Kyle Shanahan if you would like, but when Sean Payton lost his starting QB in 2019, he led his team to a 5-0 record. The 49ers haven't been able to generate much offense against bad defenses the past 2 weeks and the Saints are 3rd in total defense and will be ready for a banged up 49ers offense. The Saints will win this game unless every possible thing goes wrong and they come in completely flat.
Prediction:
The 49ers get embarrassed, ran out of the Super Dome and fall to a depressing 4-6 heading into their bye week, with little left to look forward to in 2020.
Saints 51 - 49ers 27
Written by:

49ers outsider, residing in the Hudson Valley, representing 30+ years of the 49ers experience