San Francisco quarterbacks have been spoiled with blindside protection side 2007 thanks to Joe Staley.
He is beloved among fans as he's been through it all, from playing for suit-wearing Mike Nolan to snapback rocking Kyle Shanahan. It would be difficult to see #74 hang up the cleats since this is arguably the best team and front office he's experienced in his accomplished 13 year career.
Father time is undefeated and even Joe Staley would admit that being a father is the most important job in the world. Although it would come as a surprise if he does retire, the front office will have a plan in place for both scenarios. Here's how his decision impacts the draft:
---
Scenario 1: Joe Staley Returns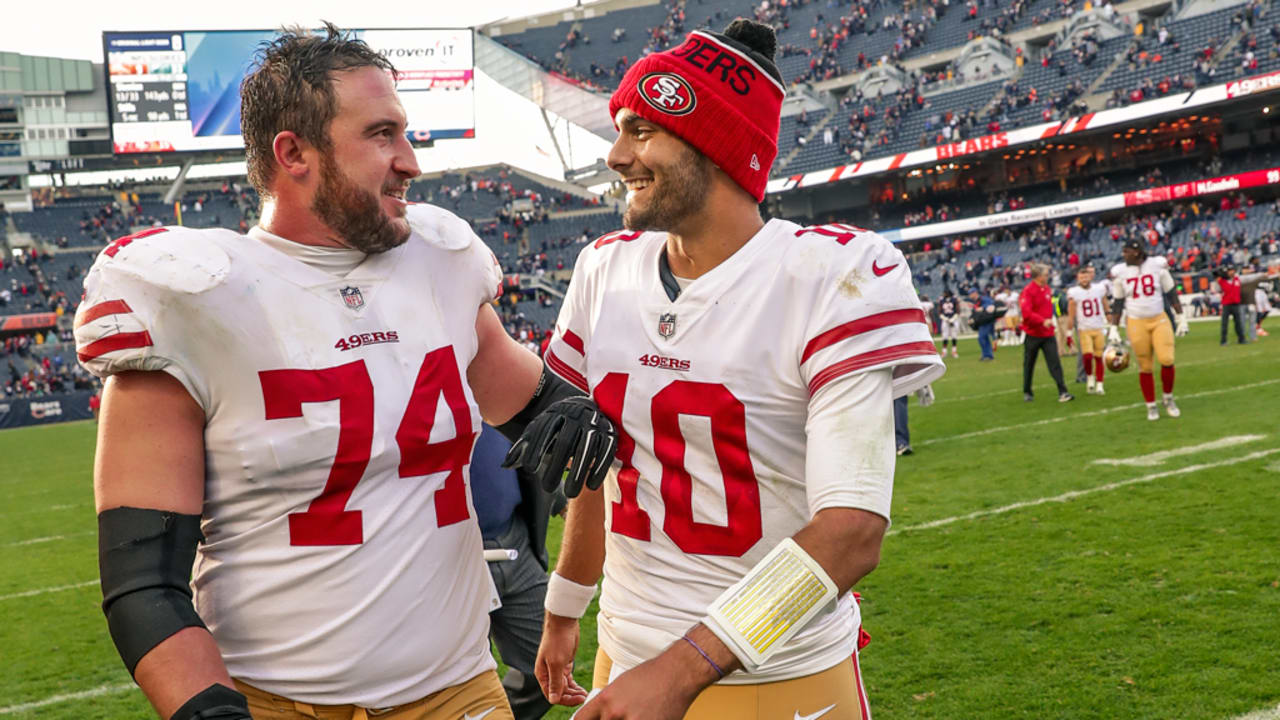 Great! While Staley showed a little age after returning to the field following his Week 2 injury, he was a true pro down the stretch. In a division filled with nasty pass rushers, having Joe's veteran presence another year would be a treat. Left tackle is the most important position on the offensive line and there's not many who do it better than Staley.
Does this impact how the 49ers draft at 13th overall? Absolutely.
Having Joe Staley for one more season allows GM John Lynch to address the skill positions or even defensive line like he has done nearly every year. This year's draft class is known to be very deep at both spots, so it would make sense for the 49ers to trade back from either pick, right?
Maybe at 31, but not 13. The 49ers are built to win now and the team needs a guy who can make an
immediate
impact.
13th overall:
Any of the big three WRs in Ruggs, Lamb, or Jeudy (in that order)
CeeDee Lamb would fit the best in the 49ers offensive play style, but that's a whole separate conversation. Niner fans seem to be split on drafting a wide receiver at 13, but there's no denying that there is a huge need.
There is no position on the roster that has more uncertainties than wideout. Pairing Lamb with Deebo would be a fantastic combination for the next three or four years.
Speaking of combos, Deebo and Kendrick Bourne stepped up in 2019, accounting for 8 of the 22 touchdowns from San Francisco pass catchers. With Emmanuel Sanders gone, it is apparent that opposing defenses will stack the box and force Jimmy Garoppolo to air it out to
George Kittle
and company.
Can we expect contributions from Dante Pettis and Marquise Goodwin?
While they possess unique skill sets, there has yet to be consistency. As mentioned before, the Faithful are in win now mode and there is no time to waste.
How about Trent Taylor and Jalen Hurd?
Both guys fit Shanahan's scheme perfectly with Taylor's ability to separate in short yardage situations and Hurd's versatility to line up anywhere on the field. Having them on the field would make play calling fun for Kyle and take pressure off Jimmy G. In reality though, foot and back injuries are not easy to come back--just ask Patrick Willis and Pierre Garçon.
Why trade back and get a solid receiver in later rounds when you can steal an absolute game changer at 13th overall? Unless DT Derrick Brown (Auburn) magically falls, drafting a wide receiver is the smart choice.
31st overall:
Trade back
Since 2012,
a team has traded out of the 31st or 32nd pick
. Take a look at the past few years:
2019
: Los Angeles Rams trade 31st to the Atlanta Falcons who selected OT Kaleb McGary
2018:
Philadelphia Eagles trade 32nd to the Baltimore Ravens who selected QB Lamar Jackson
2017:
Seattle Seahawks trade 31st to the San Francisco 49ers who selected......let's not go there.
This year can be no different. If signal callers Justin Herbert or Jordan Love are on the board, teams will be calling Lynch in hopes of drafting their QB before Day 1 ends. This will allow the 49ers to acquire more draft capital that will likely turn into additional role players.
John Lynch has proved that he can find talent on Day 2 and 3.
---
Scenario 2: Joe Staley Retires
Oh no. The once solid offensive line now feels incomplete.
At tackle, Justin Skule and Daniel Brunskill exceeded expectations when called upon last year filling in for Staley and Mike McGlinchey. Shon Coleman was expected to be the primary swing tackle before getting injured in preseason.
Are these guys long-term answers? Maybe?
It has already been
reported that McGlinchey is likely to stay on the right side
, meaning the 49ers would hold a competition in training camp between Skule, Brunskill and Coleman to fill Joe's spot.
However, there is an abundance of first round talent at the position that could step in and start Week 1:
13th overall
: OT Andrew Thomas (Georgia)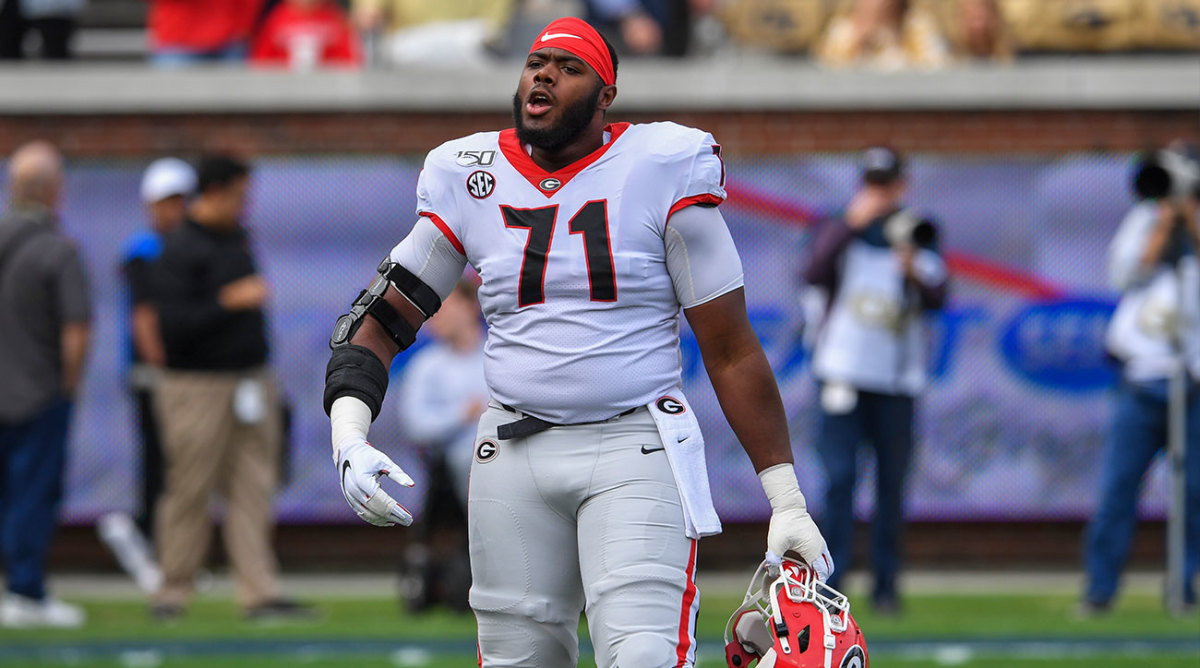 Offensive linemen in Kyle Shanahan's scheme need to be quick in space for the zone run game to flourish. Well hello Andrew Thomas!
Don't believe it? Watch Thomas' feet when blocking LSU's K'Lavon Chaisson, figured to be one of the fastest edge rushers available and will likely be a 1st round pick.
Thomas is also known to be extremely competitive, and we all know that the 49ers' front office target guys who truly love the game. It wouldn't be surprising if Thomas is the selection even if Staley returns.
In 2018, drafting Mike McGlinchey came as a surprise when secondary studs like Derwin James and Jaire Alexander were still available.
Yet, McGlinchey was the pick. He is a natural athlete and adding protection for the franchise QB was priority number one. The story stays the same in 2020.
31st overall
: Trade back (yes, again)
The 49ers would like to snatch WR Justin Jefferson (LSU) or DT Ross Blacklock (TCU) at this spot but both were selected before they were on the clock. Therefore, the 49ers trade back for the same reasons discussed earlier.
---
Not seeing Joe Staley in the locker room and on the field would be weird for everyone, and we certainly don't anticipate that happening.
Nonetheless, you can't be a successful team in today's NFL without a solid LT, and the 49ers' 1st round draft strategy will change entirely if Staley says goodbye.
Written by:

Vallejo native, San Francisco sports fanatic, and unprofessional chicken wing eater.