Videos are auto-populated by an affiliate. This site has no control over the videos that appear above.
The San Francisco 49ers utilized All-Pro tight end George Kittle at an unsustainable rate in 2018. The availability of Antonio Brown and Odell Beckham Jr. provides the Niners with an opportunity to prevent an impending problem before it comes to fruition.
The San Francisco 49ers had a dangerous addiction this season, and one that few offensive masterminds other than 49ers head coach Kyle Shanahan would have been able to mask. While that addiction proved to be dangerous for opposing defenses in 2018, a failure to act this offseason would have dire consequences for San Francisco once the 2019 NFL season begins.
Despite failing to meet preseason expectations, the 49ers' passing attack performed surprisingly well in 2018, given the storm the team's offense was forced to weather. The Niners began the season with high hopes at quarterback, despite the fact that the two QBs on their roster possessed just a season's worth of NFL experience.
In Week 1, quarterback Jimmy Garoppolo lost his first NFL game. Two weeks later, the 49ers lost their franchise QB for the season. Over the following five games, backup quarterback C.J. Beathard provided more questions -- and losses -- than answers. Eventually, Shanahan was forced to painfully admit defeat and hand the reins of his offense over to a practice squad quarterback. In his first action as a pro, QB Nick Mullens gave the 49ers Faithful a reason to watch again, although many were rooting against him for 2019 draft positioning. Mullens played just well enough to keep his new job for the remainder of the season, despite nearly getting yanked in Week 17 as Beathard warmed up on the Niners' sideline.
Even with its volatility over the course of the season, the quarterback position wasn't the worst part of the 49ers' offense in 2018. Running back also wasn't the team's most problematic position group, despite the preseason loss of top RB Jerick McKinnon or the extensive use of practice squad running back Jeff Wilson, who finished the year as the starter in San Francisco's backfield.
Of all the offensive position groups, hopes were highest this season for the 49ers' wide receiving corps. Yet San Francisco's receivers were an epic failure in 2018. After an extensive
preseason competition
, this position group was thought to be
one of the deepest on the team
and an area that
wouldn't need to be addressed
for the foreseeable future.
Top wide receiver Marquise Goodwin's mind and body were elsewhere due to personal issues and nagging injuries, normally sure-handed wideout Pierre Garçon had his drop-filled season cut short, and third-down specialist Trent Taylor's sophomore year turned into a lost season when the scrappy receiver tried to tough it out
after offseason back surgery
. By Week 17, San Francisco's starting wideouts included a pair of roster-bubble players, as receiver Dante Pettis missed the second stint of his rookie season. When healthy, Pettis was the 49ers' best wide receiver in 2018, but the bar was set historically low for San Francisco's storied franchise:
The 49ers lacked stability and experience at the quarterback position and possessed their most unproductive group of wide receivers in over 40 years, yet the team didn't have the abysmal passing attack this combination of failures would logically produce. So, how did San Francisco finish the season with more passing yardage than the majority of NFL teams in 2018?
The 49ers had Shanahan, and the NFL's top tight end,
George Kittle
.
Kittle had an extraordinary sophomore campaign in 2018, as the former fifth-round draft pick
broke the NFL record
for receiving yards by a tight end in a single season. On its surface, Kittle's season was record-breaking but not overly historic, given that just an hour prior, Kansas City Chiefs tight end Travis Kelce set the record that Kittle later broke.
But the numbers tell a different story.
The difference between Kittle and his contemporaries is the 49ers' entire passing game ran through the tight end in 2018. The San Francisco 49ers were addicted to Kittle -- because they had to be -- and Shanahan was instrumental in making his team's reliance on the young tight end a success.
With few explosive options at the team's disposal, Shanahan's quarterbacks were forced to pepper Kittle with targets. By the end of the season, Kittle ranked among the NFL's elite wide receivers in team passing target share. When we identify each NFL team's most targeted receiver, we see that only five of the league's top wideouts ended the 2018 season with a higher target share than the 49ers' second-year tight end: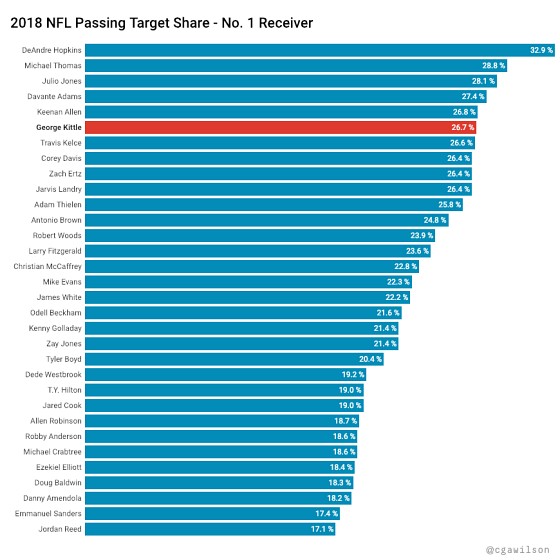 Based solely on target share, we find Kelce within striking distance of Kittle on the above chart. But once we add a bit of context, the difference between these two tight ends -- or frankly, Kittle and any NFL tight end in recent history -- becomes clear.
In 2018, Kelce had the distinct advantage of lining up beside fellow All-Pro wide receiver Tyreek Hill, who amassed 1,479 receiving yards over the course of the season. When Kelce broke New England Patriots tight end Rob Gronkowski's yardage record, he did so while corralling deep passes from All-Pro quarterback Patrick Mahomes, who threw for over 5,000 yards in 2018.
When Gronkowski initially set the record, opposing defenses were equally focused on All-Pro wideout Wes Welker's 122 catches for 1,569 yards, as well as fellow tight end Aaron Hernandez, who added 79 catches for 910 receiving yards in 2011. Gronk also had the pleasure of catching perfectly thrown passes from future Hall-of-Fame QB
Tom Brady
.
Meanwhile, George Kittle played with three inexperienced quarterbacks, "benefited" from a combined seven receptions by his fellow tight ends, and lined up alongside one of the least productive wide receiving corps in franchise history. Luckily, Kittle had 49ers head coach and unofficial offensive coordinator Kyle Shanahan in his corner.
To add some additional context, let's break down how each NFL team targeted their top receiver compared to their No. 2 receiver last season: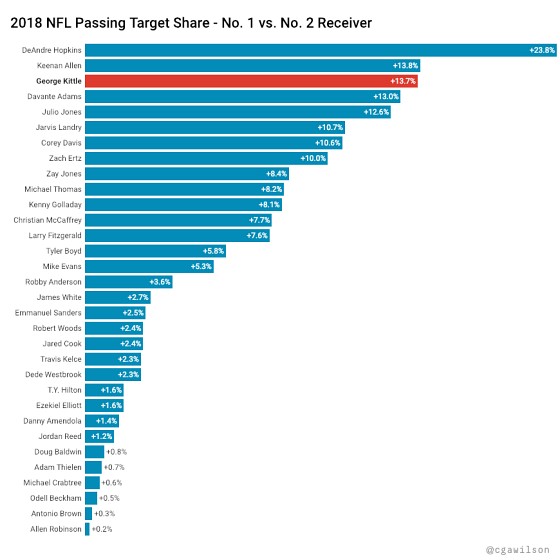 The above chart highlights the No. 1 receivers who were relied on the heaviest compared to the fellow pass-catchers on their respective teams. With little healthy competition for targets, Houston Texans wide receiver DeAndre Hopkins again tops the list, with Kittle close behind Los Angeles Chargers wideout Keenan Allen.
Behind Kittle is Green Bay Packers wide receiver Davante Adams, who played alongside a trio of rookie wideouts, and then Atlanta Falcons star receiver Julio Jones, who competed for targets with players not named "Julio Jones." We also find some surprising target hogs like Buffalo Bills wide receiver Zay Jones and Philadelphia Eagles tight end Zach Ertz. But their inclusion on the list is explained when we tie everything together via our final vital statistic:
Receivers need to be targeted in order to produce, but they also need to catch the ball -- and to be truly elite, they need do something with the ball once they have it their hands. Kittle has demonstrated he can consistently convert targets into receptions despite inaccurate quarterback play, and
no one runs after the catch
like the All-Pro tight end.
With a low catch rate and limited yards-after-the-catch (YAC), Zay Jones only amassed 652 receiving yards in 2018. And while Ertz hauled in nearly every short pass thrown his way, his yards-per-reception average was less than Kittle's yards-per-reception, yards-per-target and YAC-per-reception numbers.
Kittle deserves much of the credit for
leading the NFL in YAC
in 2018, but Shanahan also played a significant role. Prior to this season, Kittle was known merely as a potential talent who vastly outplayed his late draft position as a rookie:
Kittle didn't form an instant bond with Garoppolo in 2017, and averaged just 31 receiving yards over his new quarterback's first four starts. Not until Week 17, when Garoppolo lost his favorite target Goodwin, did San Francisco's QB look to Kittle, who responded with the first 100-yard day of his career.
With the 49ers' receiver situation in a state of flux over the first half of 2018, opposing defenses didn't focus on stopping San Francisco's top tight end, which allowed Shanahan to take advantage of Kittle's athleticism in the open field. Kittle often worked his way open into the secondary and then used his speed and surprisingly quick open-field moves
on long catch-and-runs
.
However, Mullens' first game as a starter, which was on primetime television under the lights of Levi's Stadium, changed the league's opinion of the 49ers' tight end. Kittle's second 100-yard game of the season -- and particularly
his one-handed highlight catch
-- put San Francisco's second-year star on the map, as opposing defensive coordinators began to game plan specifically to stop the 49ers' top receiving target.
That's when the offensive genius of Kyle Shanahan truly came into play. Given the new defensive focus on Kittle, Shanahan significantly modified the 49ers' offense after the team's Week 10 bye. Pettis was given a more prominent starting role as both a decoy and a receiver who could win one-on-one matchups. Shanahan continued to feature Kittle in the passing game, but the 49ers' head coach used creative methods and misdirection plays to scheme his top receiver open.
When Pettis' performance the previous week kept the Denver Broncos from focusing all of their attention on blanketing Kittle and harassing Mullens, the 49ers' tight end responded with an epic 210-yard first half in Week 14. Once the Broncos changed their defensive game plan, Shanahan responded in kind. Kittle was silent for the remainder of the game, while a previously-quiet Pettis snatched all of his catches for the day, and found the end zone for a score.
Pettis is far from an elite NFL receiver, but the youngster showed just enough potential to cause opposing defenses concern. If you give Shanahan a little, he's going to take a lot, particularly when he has a rare talent like Kittle at his disposal.
As the 2018 season continued, opposing defenses turned up the pressure on Kittle, which forced Shanahan to become even more creative in his efforts to feed his tight end. Shanahan began to use more heavy personnel packages, especially
21 personnel
, to scheme Kittle into open space by moving him across the formation and into the secondary in obvious running situations. And finally, Shanahan was forced to delve into the trick play section of his playbook for the 49ers' final game of the season:
Shanahan did his best to properly utilize Kittle given the offensive personnel at his disposal, and the 49ers' head coach was extremely successful in this endeavor. But with the fast pace of the regular season now over, opposing teams will have countless hours to pour over San Francisco's game film with the intention of stopping the Niners' top receiver in 2019. Shanahan and 49ers general manager John Lynch need to ensure they add talent at the wide receiver position over the offseason, because San Francisco's offense will not thrive if it continues to be this dependent on Kittle going forward: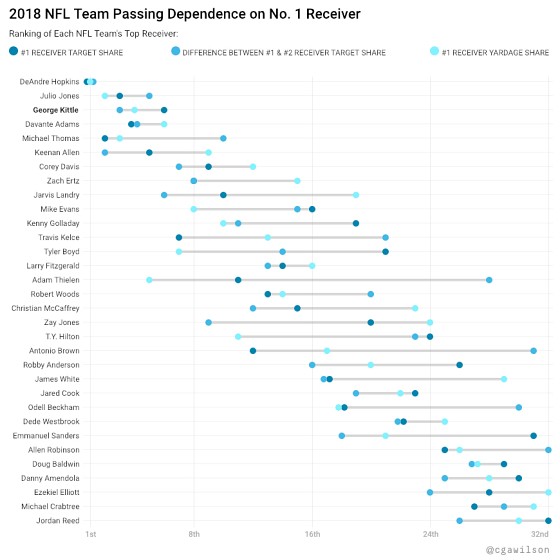 The addition of a top-tier wide receiver like Antonio Brown or Odell Beckham would immediately fix the 49ers' impending George Kittle problem, but San Francisco's front office doesn't need to empty its wallets or jeopardize its draft future in order to have a successful passing offense in 2019.
Whether San Francisco decides to replace Garçon with an established healthy veteran, draft a second-day wideout, add strong competition via free agency or perform a minor rehaul of the group with a combination of personnel moves, the 49ers need to focus on upgrading the position this offseason. With added talent comes added defensive focus, which will allow Kittle to do what he does best: dominating opposing defenses, signaling after moving the sticks and helping lead the San Francisco 49ers to victory.
Written by:

You may have seen Chris Wilson's work on NFL game theory, statistical analysis, and film breakdowns at Minute Media, FanSided, Niner Noise, Insidethe49, LockedonSports, ClutchPoints, and others. Follow Chris on Twitter @cgawilson.