Videos are auto-populated by an affiliate. This site has no control over the videos that appear above.
Tomorrow, the San Francisco 49ers face an undefeated, high powered Los Angeles Rams team averaging 32.7 points per game. The oddsmakers, so-called experts, and cosmic football fates have abandoned the 49ers and are heavily in favor of the Rams.
If it's an even game you seek, then find it in that brief moment as the opening kickoff sails through a hot Santa Clara sun. Those are the seconds when the tide can shift in either direction, proving mere mortals and football spirits wrong.
This season, these longtime rivals are opposite sides of a coin. While the 49ers struggle to remember pass coverage assignments and have an offense that's as consistent as a 1967 Mustang in cold weather, the Rams are proving that it's effortless to buy a championship roster, even if it's a one-season thing.
The 49ers have a shot to win this game, but it will take an effort and a level of discipline they have yet to reveal to the world.
Offense: Score on 65 Percent of Its Possessions
If you look at the Week 5 statistics while sitting in a cold, airless vacuum, it's possible to find a path for the 49ers to beat the Rams. Against Green Bay, the 49ers' offense scored on 54 percent of its possessions. A blended attack of pass and run, including a career-high 87 yards from running back Raheem Mostert, kept the Packers' defense guessing most of the game. Further, quarterback C.J. Beathard completed 69 percent of his passes and threw two touchdowns to wide receiver Marquise Goodwin.
Head coach Kyle Shanahan's playbook is solid, and he can scheme receivers open on nearly any play he wishes. Below is an example of a hi-low route combination that gained 22 yards and set up the 49ers' first touchdown drive.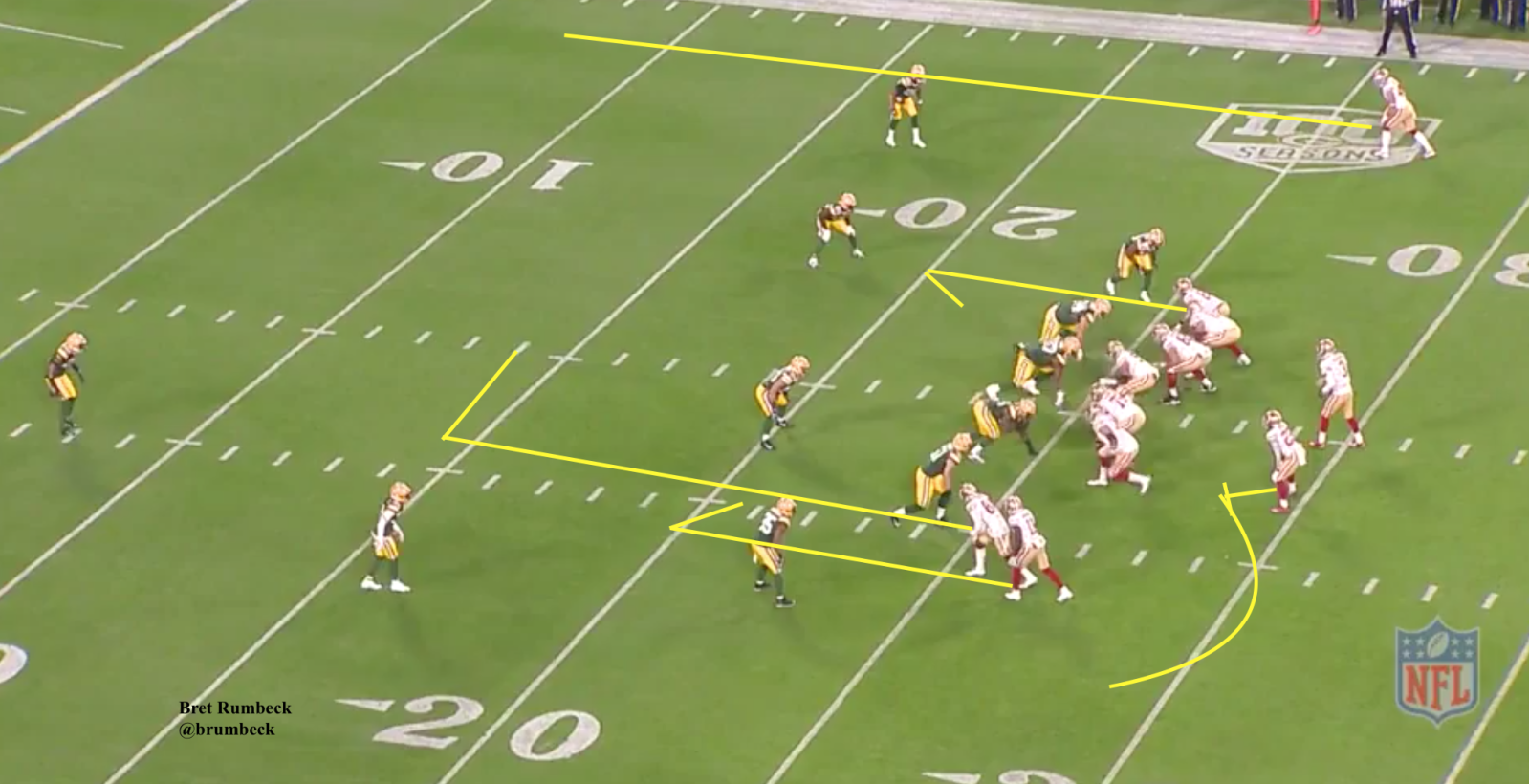 While the above play is an example of excellent execution, the last three possessions for the 49ers in Week 5 resulted in three 3-and-outs and a net total of 7 yards. The unreliable offense could not seal the victory, and Shanahan's game plan crumbled like Sisyphus' boulder just when the 49ers were ready to reach the peak of the mountain.
This Sunday is not a time for the 49ers' offense to be its usual inconsistent self. Operating at high efficiency now and then, with other series gaining single-digit yardage is not a formula to beat the NFL's best franchise. To keep up with the Rams, the 49ers' must control the clock on offense with drives lasting over five minutes and score on at least 65 percent of its possessions.
Defense: Can You Get the Coverage Problem Solved?
I probably wasn't the only fan watching the Packers' first play on Monday with my breath deep in my lungs and the growing feeling of an ulcer in my stomach. From the second Aaron Rodgers took the opening snap, the sense of another secondary disaster was very real.
Of course, the 49ers' defense allowed the Packers to gain 60 yards on the first play and gave up 425 yards in the air to Rodgers.
It's easy to pick on five-year veteran Jimmie Ward and second-year defensive back Greg Mabin for their combined failures, but the remainder of the secondary didn't look great either.
Below is an example of a blown coverage that does not include Ward, Mabin, Jaquiski Tartt or Adrian Colbert.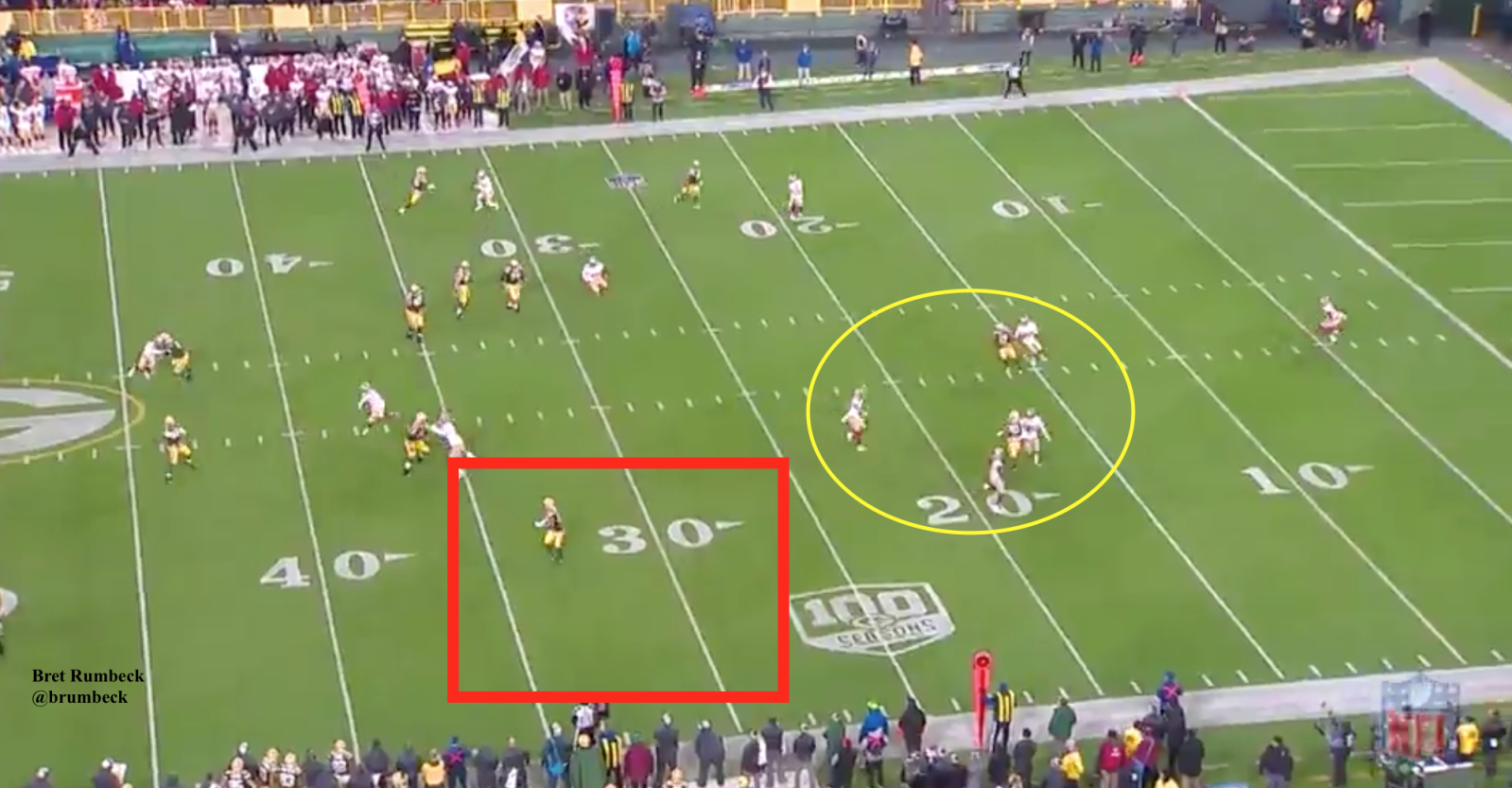 It's possible I'm wrong, but I am unaware of any pass coverage that places four defensive players within seven yards of one another with the goal of covering two receivers. The coverage breakdown left the flat wide open and allowed the Packers to gain 22 yards.
While flawless coverage should be the number one goal, defensive coordinator Robert Saleh needs to find new ways to bring pressure to Rams quarterback Jared Goff. Through five weeks, Goff is completing 73 percent of his passes when defenders are kept at bay, but only 54.8 percent when he is under pressure. (Per
Pro Football Focus
)
The 49ers' defense has shown the world it can force teams to punt after three plays, but it's yet to show the world it can cause turnovers. I have to imagine the defensive meeting room is starved for a big interception, which may be the catalyst needed to reboot an ailing secondary.
Special Teams: We Need a Score
The 49ers' punt return unit has racked up a full 37 return yards this year. Trust me, that's not an error. In six games, the 49ers' punt returners average 3.4 yards per punt return, or just over the height of a regulation NBA hoop.
The kick return unit, on the other hand, is the best in the NFL, averaging 28.6 yards per return and 487 total yards.
As noted in previous work, the 49ers have gone 116 games without a special team score. 49er football needs to be more than just begging the offense to score points and the defense to make stops. We can toss all the bricks out the window if special teams can't shoulder a little more of the load, especially when the 49ers need to beg, borrow and steal points to remain in the game.
Each time this fabled rivalry takes the field I remember how much I loathe the Rams. There's nothing more I'd like to see in my first trip to Levi's than a huge victory over our hated neighbors to the south.
Both photos courtesy of NFL.com.
All statistics courtesy of Pro Football Reference unless noted.
Written by:

Bret Rumbeck has been writing about the 49ers since 2017 for 49ers Webzone and 49ers Hub. He is a Turlock, CA native, and has worked for two members of the US House of Representatives and one US Senator. When not breaking down game film, Bret spends his time seeking out various forms of heavy metal. Feel free to follow him or direct inquiries to @brumbeck.