Videos are auto-populated by an affiliate. This site has no control over the videos that appear above.
I was excited when Jed York got control over the team from his parents because it was clear that he loved football more than they did. I give him credit for being part of the process to bring Jim Harbaugh in and returning the 49ers back to relevance. However with every remark he makes these days, he adds to the "
Perception Problem
" that Steve Young said the Niners now have.
As you all may have read or heard, Jed York compared the 49ers hiring of Jim Tomsula to the Warriors hiring of Steve Kerr. I'll get to that in a second, but for those of you who haven't already seen it, you can find the article
here
.
I get it, I understand that Jed is really excited about his new hire and knows a lot of things we don't about our new coach. However, one of the cardinal rules of business is this: LET THE PRODUCT SPEAK FOR ITSELF. Instead of writing checks with his mouth, he should be writing them with his pen, you know, like other owners do. It seems like more than any other owner (yes, also more than Jerry Jones), Jed can't stay out of the media.
What's unsettling for 49ers fans is that York can't seem to get out of his own way. From the leaks coming from the team (which many people have assumed were him), to the way he handled Jim Harbaugh's situation publicly, to the botched coaching search; Jed York keeps digging himself deeper in the hole he threw himself into when he fired one of the most successful coaching staffs in recent 49ers history.
If Jim Tomsula wasn't already squarely behind the 8-ball, he is now and that's a tough position to start from when you've coached a grand total of 1 game in the NFL. Ideally, a coach would come into a stable situation where he knows what he has and what to expect, be it rebuilding or contending. With the mixed messages from General Manager Trent Baalke (are we rebuilding or re-loading?) and the constant interference from Jed York, we really don't know what to expect this year.
The 49ers and Jim Tomsula were already having a terrible offseason with the mass exodus of players via retirement and free agency. Add to that a whole new coaching staff, a new scheme to implement and filling the holes left by departed players all to make it a giant uphill climb for Jimmy T. The last thing he needed was added pressure from the owner, especially when the Niners have yet to take the field for training camp.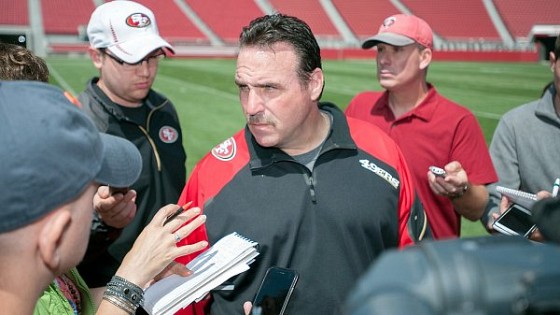 Now, let's compare this to the Warriors hiring of Steve Kerr.
The Warriors, like the 49ers, were a team that was a few pieces away from winning a Championship and loaded with talent. Also like the 49ers, the Warriors fired one of the most successful coaches that they've ever had in Mark Jackson. Both teams play in the Bay Area. That's about where the similarities end.
How is it different, you ask? Well, for starters, Steve Kerr was a highly sought after coaching candidate who was courted by multiple teams. Care to ask how many teams courted Jim Tomsula? You guessed it, only the one that he's coaching for right now. That's not necessarily Tomsula's fault, but it is telling.
Steve Kerr actually played basketball and was a 5-time NBA Champion while playing for two of the greatest head coaches of all time, Phil Jackson and Gregg Popovich. His coaching style has bits and pieces of the greats that he played for. He also had a stint as GM of the Phoenix Suns before entering the broadcast booth for TNT, so he's been able to see the game from every level.
The Warriors, unlike the 49ers, did not have a significant amount of roster turnover upon Kerr's arrival. The team was in full re-load mode and everyone knew it. No one really knows what the 49ers are right now.
Finally, the Warriors co-owners Joe Lacob and Peter Guber and General Manager Bob Myers stay mostly behind the scenes. They let Steve Kerr do his thing without interfering on the court, in social media or otherwise. Unfortunately, the 49ers don't have that dynamic right now - with York constantly in the media and Trent Baalke finishing Jim Tomsula's sentences.
The biggest loser in this is Jim Tomsula. The heat is already on him before his first training camp practice even begins, as if the pressure from the fans and national media wasn't enough. We 49ers fans are a fickle bunch. We want to win and we want to win with style. That's what we were raised on by the great teams of the past and it's what we've come to expect. It's what drove us nuts about Jim Harbaugh when the team was squeaking out wins.
I want to reiterate that I think the 49ers will be successful this season and the changes will work out for the better. I am cautiously optimistic about this group because of the encouraging things we've heard out of players and the coaches addressing problem areas right away. I have full faith in the coaching staff to get things turned around. There will be bumps in the road - some of them self-inflicted like this one - but at this point it's a blank slate and the 49ers are 0-0 like every other team in the league.
No pressure, right Jed?