Videos are auto-populated by an affiliate. This site has no control over the videos that appear above.
Welcome to 'First and Goal', your guide to everything Niners. This week we eat some humble pie, laugh at baseball a little bit and then look ahead to next year with a little player preview. As always, be sure to check out our Hero of the Week.
Before we get to it I just have to say, I've been having a really hard time getting an interview with some of the 49ers assistant coaches. Not even the ball boy returned my calls. Such is the life of the unknown writer. But I didn't want to give up, so I read up on how the big boys do it. Apparently, not even stalwarts like Matt Barrows get to interview the assistant coaches.
Only Taylor Price does.
This isn't over yet. I'll get Steve Logan on the phone before the season starts and that's a promise.
* Editors Note: He really doesn't like Taylor Price. Pure jealousy.
Opening Week Already??
That means the draft is near! Before I dig in to baseball a little bit, a full disclaimer. I love baseball; it's just that my team stinks. I don't care about other teams so this baseball season is a wash for me, as long as the Cardinals or Giants don't win the whole thing. I'm a Phillies fan after all, and I despise inferior teams winning the championship. And they were inferior teams, this is my article, deal with it. We got beat by Cody Ross and the 7th hole hitter, whatever his name was. Only in fantasies, video games and baseball can someone that pathetic beat you in a series. But I digress…
I can't remember a quieter opening day for baseball. Fact is, I barely heard anything about baseball in the last 6 weeks. There's been March madness, a little NBA, the Masters is around the corner, forget about hockey and oh yea, football 24/7. In the past, March was for spring training. I'd get the mitt out and go throw in the backyard. Now March belongs to football, just like every other month. They made sure of it when they leaked the idea of changing the PAT.
I feel like strangling someone. They say it's automatic? It's supposed to be!!! No one in the history of watching the NFL thinks that a TD is worth 6 points. We all know a TD is worth 7 points. If you get two TD's, you get 14 points. Three TD's and you're up to 21. You get the idea. Changing the PAT is going to change the symmetry of the game, and that's just really stupid. But here we are, talking about it.
And that's exactly the plan. The NFL really has taken over the calendar. Every week there's something going on, something to talk about, some stupid idea to address. It's a non-stop novella of football porn that wants to corner everything and everybody. If they understood their own core demographic a little more, i.e. men, they'd know that we don't sweat people that sweat us. It's not very attractive. Not that Roger the Hutt can hear me, he's too busy lounging in his office, sitting on a pile of money he receives from a fully guaranteed contract of 300 million over 7 years. Wow! I imagine that Goodell has Adrian Peterson chained to the corner of his desk in a Princess Leia slave costume. That might be a little over the top, but so is the drive by the NFL to rule the tube. And whoever rules the tube, rules us.
So let's lay out a funeral wreath for baseball this year. Runs are down, pitchers are breaking down and there are still 158 games to go. I'm sure someone will win something this year, right around week five or week six of the NFL regular season. #FireRubenAmaroJr
Break-out Candidate of the Year
The talk around the Niners this off-season feels like the team went 4-12 last year. If 8-8 in the toughest division is bottoming out, then I'll take it. There's been a recent discussion about break-out candidates for 2015. Not rookies mind you, but guys we feel might put on a show this year compared to last year. The best part of this conversation is how many players fit that profile. Half the team, maybe more, fits that description. That should be worth at least 3 more wins, putting us firmly into the playoffs.
I know it all starts with Kap, and we covered him last week. Suffice it to say, he made some glaring mistakes last year, mistakes you don't want to see your QB make. (stare down open receivers) He's working on things, so the hope is Colin takes a big step this year.
One could say the running game will get a boost with Hyde, who should fit well with the ZBS we're going to deploy. He hits the hole with speed, something we've sorely lacked. I've got high hopes for Reggie Bush as well, especially in the screen game. Running offense trending up.
One could say the OL will get a boost by just staying healthy. I expect bounce-back seasons from Anthony Davis and Alex Boone. I expect Martin and Kilgore to play well at center. And I expect Brandon Thomas to blow away his performance from last year by holding down the LG spot. Our backups are better now too.
One could say the passing game will break out and we're not even talking about Torrey Smith. I'm talking about waking Vernon Davis up from the dead, getting Ellington/Patton off the bench, using McDonald and Carrier more and hoping that people like Brandon Lloyd are left off the team. I want Millard in an h-back role, he could be special. Passing offense trending up.
On defense we're looking at a lot of changes but also a lot of potential. It all begins and ends with Aldon Smith. How quickly we forget that our best defensive games had two things in common: buzzing around by our ILB's and constant pressure from Aldon Smith. He faded pretty badly last year. Was he injured? Did he check out? Who knows. It's a contract year and if he plays 16 games, he might break 20 sacks. That's if he comes to play, since we know he can. With Lynch in year 2, I fully expect our pass rush to be better.
One could say the pass defense will be better. We lose people every year and we always seem to find good DB's. I expect Ward to be better. I expect DJ to be better. I expect Brock to play. I expect Cook to be better. And Reaser. And Acker. I'm really starting to like our DB's.
One might even say that our DL will be better, if they stay healthy. I'm excited for Tank, he came on strong late last year. I think Dial will be better, especially at DE. I'm hoping that our two stud NT's stay healthy. I'm liking the depth signing of Dockett. And I expect Justin Smith to come back somewhere around week 10 after we start 8-1.
Our safeties are great and we're getting Bowman back too. There are lots of things to be excited about on defense. Offense too. Lots of break-out candidates. We have a deep team folks, with a few warts, and the draft is still on the horizon.
Team trending up.
Hero of the Week
We here at 'First and Goal' believe in mankind. We believe in equal rights. So we actually applaud the NFL for something this week in their hire of new referee Sarah Thomas! This is a first for the NFL but it's not a first for Thomas, who also broke the barrier in college football, becoming the first female to ref a game and the first female to ref a bowl game.
This was a long time coming. I'm not talking about women here, I'm talking about hiring a ref that wasn't an 80-year old. How do they expect these old guys to keep up with the game? Thomas is 42 and looks to be in running shape. We wish her good luck and ask that she not be afraid to pull that yellow flag… especially if the Seahawks are on the other end. Your HOTW, and NFL trailblazer, Sarah Thomas!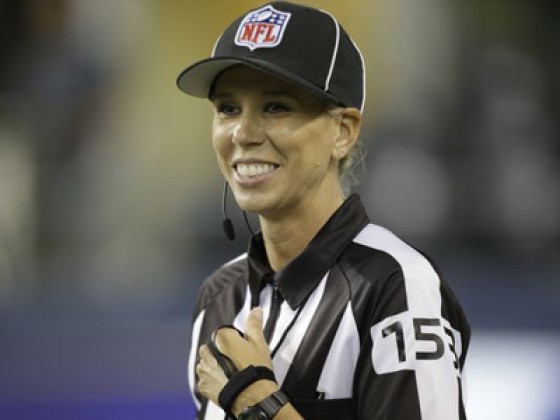 Photo credit Stephen Brashear, AP