Videos are auto-populated by an affiliate. This site has no control over the videos that appear above.
Welcome to 'First and Goal', your guide to everything Niners. This week we'll dive into the roller-coaster of player movement that went down, as well as look ahead to some brighter days in Free Agency. We must try to remain optimistic. This is our favorite team, and while it hasn't been pretty, most of what happened was to be expected. It's the unexpected that hurts the most. As always, be sure to check out our Hero of the Week.
Let's get to it!
A Farewell to Arms
Sunday night was a tough one. Long story short, a person I loved dearly chose to go her separate way, extinguishing any hopes of a future reunion. It honestly felt like I had been punched in the gut. And it didn't get any better Monday morning when someone texted me that our leader in the clubhouse, Sir Patrick Willis, was hanging up his cleats. Sometimes life comes at you pretty fast, and before you know it, things are taken from you. I think we all expected Willis to be our hero in the middle for another 6 years or so, hopefully going out on some kind of Ray Lewis farewell tour, culminating in a championship trophy. Let that be a lesson to all of us, to appreciate what we have when we have it.
The list of players with his accomplishments and accolades is pretty thin, and all of them are enshrined in the Hall of Fame. I knew he was worthy as a rookie. But I never imagined that the train ride would end when it did, and I imagine that neither did you. I'm sure that Willis will lead a long and full life with no regrets; the regrets will be left to us, who wonder what another 5 years next to Bowman would have looked like. The locker room will surely miss his heart and his leadership. And we will all miss the sight of #52 flying around the field. As I lift some 18-year Macallan to my lips, I give a toast to Patrick Willis, to the man who did as much as anyone to lift us out of the dark shadows of losing records and into the light of the Super Bowl.
And the Hits just Keep on Coming
Willis was the only truly unexpected loss. The rest of them were expected, more or less, though it doesn't make it any easier. Goodbye Frank, goodbye Crabs, goodbye Smith and Iupati. Cully's gone, so is Cox, and who knows if Bruce will walk away from his legal troubles. Stevie's cut, though he may come back, and so might Smith; but what is certain, is that our opening day roster will look markedly different. We've been preparing for years with all the draft picks and PUP-stashes and the future is here for the taking. I'd like to think that all this turmoil is proof of the inevitability of change… or maybe it's the curse of Santa Clara… but I think we can all agree that the last few months have gone about as bad as can be imagined.
Which is not to say it can't get better. I firmly believe that we are one good draft away from being a really, really good team. If this year's draft is anything like last year's draft, we will have a stacked roster capable of competing with anybody. Even with all the turmoil, I can count more than a 6-pack of players with pro-bowl talent. The problems with our team have never been about the talent. If we can keep the ship steady on defense, while making some improvements to our offensive scheme, we're going to be in the mix for the playoffs. It's not hard to imagine that the new coaches will be looking specifically at our red-zone issues, play-clock issues and play-challenge issues as easy ways to vastly improve our performance. I see a very clear path towards improvement and I think our coaches do too. We were killed by the injury bug last year. I like the Dockett singing. I like kicking the tires on Reggie Bush. The arrow is pointing up in my book, and with some new, unexpected cap space, we just might be able to add some more impact players.
Finally, some Speed!
Getting speed on offense was Baalke's main priority this offseason and he did it in a big way, grabbing the second best deep threat in the NFL this side of Desean Jackson. In his career, Torrey Smith has as many deep receptions as all the combined Niners WRs during the last four years. This cannot be over emphasized. Early in Kap's starting career, he made a killing downfield, with the highest completion % of any QB on passes that traveled at least 20 yards in the air. When we had the horses to get downfield, Kap could hit them regularly. He only regressed last year because our entire team regressed. When the defense calls out all your plays, it's hard to be successful at anything.
Some might say that Baalke spent too much money. As usual, the contract is laden with incentives and de-escalators, meaning that if Torrey Smith earns all 40 million on his deal, we'll be glad to hand him that money. We're still paying him less than other top-shelf FA WRs are getting in annual compensation, so to me, that means we paid market value for adding a dimension to this team that was sorely lacking. It's not Baalke's MO to grab a big name with big dollars in free agency, but this move is fantastic in that it allows us to go pure BPA in the upcoming draft instead of reaching for a WR in the first round.
Heroes of the Week
Obviously, when
Frank Gore
and Patrick Willis leave the same week, they're going to get top billing. We take this space to thank them for the amazing careers they have had in the red and gold. They both came in during the ugly years and they never dreamed to leave for greener pastures. They both displayed toughness, heart and determination. And they did it with class. I don't know anyone who has a bad thing to say about either of them, and I know plenty of eagles, cowboys and seahawks fans. Our HsOTW… #21 and #52. Fare thee well, boys.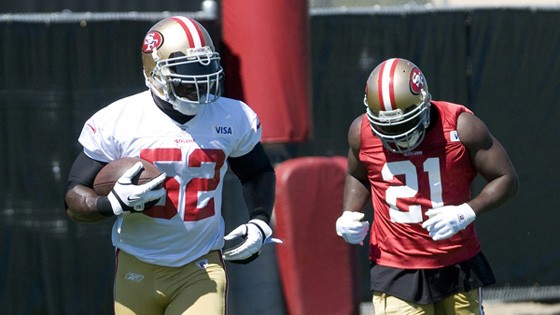 Ed Szczepanski-USA TODAY Sports