Videos are auto-populated by an affiliate. This site has no control over the videos that appear above.
The San Francisco 49ers are 1-4 and the outlook appears bleak on both sides of the ball right now. With the season starting the slip away, head coach Chip Kelly is looking for answers and making the moves he can given the lack of depth he has to work with. You could argue, despite issues all over the roster, that most of the reason for the bad start has been due to poor quarterback play by QB Blaine Gabbert. Recognizing the need for a change, Kelly will give the keys to QB Colin Kaepernick, in an effort to jump start his lifeless offense. Will it be enough on the road against a Buffalo Bills team that has won three straight games to run their record to 3-2?
Recent History
The Niners may have been playing the best football of the Jim Harbaugh era when they took on the Bills in Week 5 of 2012. Behind 621 total yards of offense, San Francisco rolled to a 45-3 win. QB Alex Smith played one of his best games as a pro, going 18 of 24 (75 percent) for 303 yards and three scores. RB
Frank Gore
, WR Michael Crabtree, and TE Vernon Davis all eclipsed 100 yards, and RB Kendall Hunter added 81 of his own. On defense, the 49ers held the Bills to 10 first downs and only 204 total yards. Complete domination.
Players to Watch
Obviously, all eyes will be on Kaepernick this week, and there's a lot of excitement about his return behind center. Despite the glimmer of hope, you can't help but wonder if he'll just be the same ineffective quarterback we've seen the past two seasons. In 2014, the last full season Kaepernick started, the Niners only scored 30 offensive touchdowns and lost four of their last five games. Kaepernick averaged 137 yards through the air in those four losses. It was a trend that would hold steady into 2015, as the maligned signal caller continued to struggle. Overall, Kaepernick would ultimately go 3-10 over his final 13 starts and fail to break 174 yards passing in nine of them. San Francisco was the lowest scoring team in the league over that stretch. Were there other issues? Sure, but to say Kaepernick even played average despite them would be giving him too much credit. Still, he at least deserves a shot to see if he can revive his career in head coach Chip Kelly's offense, and he's about to get it.
The Bills are currently third in the NFL in rushing with 686 yards, and their bell cow back RB LeSean McCoy is fourth among all runners with 447 yards. McCoy gashed the Los Angeles Rams to the tune of 150 yards in Week 5, and he'll look to continue his solid play this week against the NFL's 31st ranked rushing defense. Mix in QB Tyrod Taylor's ability to move the chains with his legs (6.5 yards per carry) and 49ers will have their hand's full.
Stats to Know
The 49ers are on the road this week, and that's a scary thought on the defensive side. In two road game this season, Jim O'Neil's group has given up 83 points, and 948 total yards. Even though it's O'Neil's first year, those results are very similar to what the team did last year on the road under Eric Mangini. San Francisco gave up an average of 31.5 points per game and 442 yards in 2015, struggling to find any consistency away from Levi's Stadium. Maybe some of the young defensive players that general manager Trent Baalke selected aren't developing so well after all, or maybe the schemes just haven't fit the talent. Either way, the group has to start to find some consistency.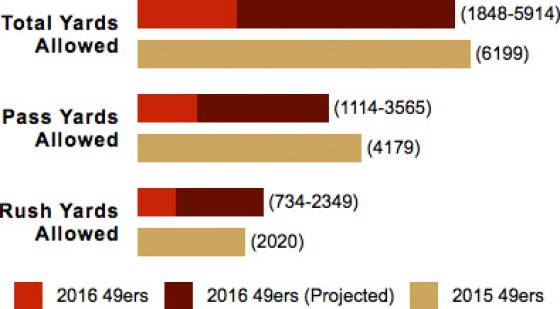 Game Changing Factor
It's hard to blame San Francisco's 1-4 start on Kelly, as it seems as if plays have been there to be made. In Week 4, if Gabbert doesn't under throw a wide open WR Torrey Smith for a would-be touchdown, there's a good chance the Niner's would have beaten the Dallas Cowboys. Gabbert missed multiple throws in Week 5, most of which came during the first half when the Arizona Cardinals were struggling. Overall, Gabbert's either been extremely inaccurate or doesn't go where he should go with the football. If the Niners had even average quarterback play, they might be 3-2 right now. That's a testament to Kelly considering he doesn't have much to work with roster wise. If Kaepernick can hit on some plays, the 49ers could look like a very different team.
News from the Week
On Tuesday, the 49ers returned from their mini-bye following a Thursday night home loss to the Arizona Cardinals. On that day, head coach Chip Kelly stepped up to the podium and announced that
the team would be making a switch at quarterback
. Colin Kaepernick would be the team's starter, replacing Blaine Gabbert.
On Wednesday,
Kaepernick signed a restructured deal
which, for the 49ers, eliminates future guaranteed salary should the quarterback suffer a serious injury. For Kaepernick, it can make him a free agent following this season, allowing him to negotiate with whoever he wishes at the start of the new league year in March.
Matchup Information
Kickoff:
Sunday, October 16 at 10:00 a.m. PT
Where:
New Era Field in Orchard Park, New York
All-Time Matchup:
49ers lead series 6-5
Last Meeting:
10/7/12, 49ers win 45-3, at SF
Current Streak:
Won 2
Betting:
The Bills are 9-point favorites
NFL Fan Picks:
76% pick the Bills to win according to
Yahoo! Sports
49ers Fan Picks:
Within our
Pick 'em Contest
, 69% believe the Bills will win
49ers Schedule:
View full schedule
Bills News:
Bills news at Problitz.com
Follow Game Online:
NFL.com's Game Center
Discuss:
Niner Talk forum
Follow Us:
Facebook
,
Twitter
,
Google+
Television and Radio
The game will be televised on
FOX
(Check
506 Sports
to see if it is local).
Play-By-Play:
Dick Stockton
Color Analyst:
David Diehl
Sideline Reporter:
Kristina Pink
KGO 810 AM
and
The Bone 107.7 FM
(
Other markets
) will carry the radio broadcast with Ted Robinson doing the play-by-play and Tim Ryan as the color analyst.
ESPN Deportes
and
KKSF 910 AM
will carry the Spanish broadcast.
San Francisco 49ers Injuries
Final injury reports released on Friday
Buffalo Bills Injuries
Final injury reports released on Friday
Game Averages (Rank)
| 49ers | | Bills |
| --- | --- | --- |
| 22.2 (18th) | Offense Pts | 23.4 (15th) |
| 291.4 (31st) | Offense Yds | 306.6 (28th) |
| 170.0 (31st) | Offense Pass | 169.4 (32nd) |
| 121.4 (8th) | Offense Rush | 137.2 (3rd) |
| 28.0 (26th) | Defense Pts Allowed | 17.4 (5th) |
| 369.6 (20th) | Defense Yds Allowed | 354.2 (15th) |
| 222.8 (10th) | Defense Pass Allowed | 257.0 (17th) |
| 146.8 (31st) | Defense Rush Allowed | 97.2 (13th) |
Individual Statistics
Team Leaders
Passing
Comp
Yds
TD
INT
Blaine Gabbert, SF
58.0
890
5
6
Tyrod Taylor, BUF
61.9
897
6
2
Rushing
Car
Yds
Avg
TD
Carlos Hyde, SF
95
377
4
6
LeSean McCoy, BUF
85
447
5.3
3
Receiving
Rec
Yds
Avg
TD
Jeremy Kerley, SF
26
304
11.7
2
Robert Woods, BUF
20
196
9.8
0