Videos are auto-populated by an affiliate. This site has no control over the videos that appear above.
The Chip Kelly era in the Bay Area officially kicks off on Monday night. The San Francisco 49ers open the 2016 regular season at home against the Los Angeles Rams in the second of ESPN's two Monday Night Football games to finish the NFL's opening week. This is the second consecutive year that the 49ers will kick off their season on Monday Night Football. In 2015, the team opened up with a 20-3 home victory over the Minnesota Vikings.
The 49ers, who are looking to win their sixth straight season opener, will face a Rams team that returned to the Los Angeles market during the offseason. The matchup will renew an intra-state rivalry that was once among the best in the league.
QB Colin Kaepernick
, who has been relegated to the backup role with San Francisco, will continue to be in the spotlight. His controversial protest of the national anthem has gained significant publicity from the media since it was first noticed following a preseason game on August 26.
"I'll continue to sit," said Kaepernick following that preseason loss to the Green Bay Packers. "I'm going to continue to stand with the people that are being oppressed. To me this is something that has to change. When there's significant change and I feel like that flag represents what it's supposed to represent, this country is representing people the way that it's supposed to, I'll stand."
Unsurprising to most,
Blaine Gabbert
emerged from the 49ers' quarterback competition as the starter. Kaepernick, who missed much of the team's offseason program, part of training camp, and two exhibition games, was never able to fully compete for the starting job.
"It was unfortunate for [Kaepernick] – because of the arm injury – that we didn't have an opportunity to see him earlier, to get a chance to get in there against Houston and our second preseason game," Kelly said this week. "He got some limited reps in terms of the third preseason game but just to get him back on his feet and get him going. He'll be the first to tell you we need to get him back to where he was physically. He's still working on that. I think he's obviously got nothing wrong with him from the injuries that he had last year. So, medically he's cleared to play, but physically he still needs to make some strides in terms of getting back to where he was as a player."
2015 Highest Red Zone Passer Rating
Blaine Gabbert, SF
120.5
Matthew Stafford, Det
118.0
Marcus Mariota, Ten
116.1
Kirk Cousins, Was
113.5
Cam Newton, Car
112.7
Gabbert finished the 2015 season with a 19-16 overtime win against the Rams. It was a game where he threw for 354 yards – a career high. It was also the only win within the division that the 49ers had last season. He will face a very good Los Angeles defensive front that will likely focus on stopping
RB Carlos Hyde
and challenge Gabbert's ability to get the ball downfield.
Kelly praised Rams
DT Aaron Donald
, who he called one of the best in the game while speaking to the media this week. "He's so explosive and so dynamic," said Kelly. "Very rarely does one guy get him blocked because he can get off a block so quickly. So, the one thing that you notice is sometimes he will be blocked and you stop the film first two steps in, the offensive guard's doing a great job of covering him up and then he's off the block. So, he does such a great job getting off of blocks and making plays.
"To have that type of a playmaker on the inside of your defense, it's rare that there's someone that's that athletic that's playing that position and that's obviously certainty something that has everybody's attention, not just us because we're playing them on Monday, but I think anybody that plays the Rams."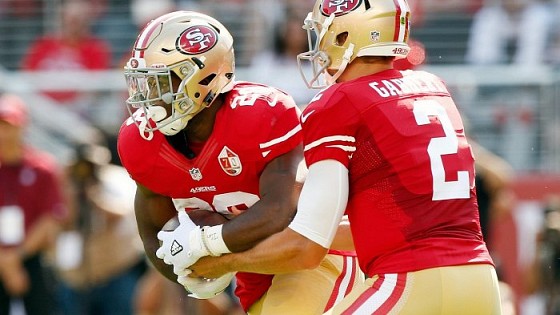 As for Hyde, he was cleared from the concussion protocol this week. He suffered the head injury during the first quarter of the 49ers' preseason game against the Packers. Kelly's offenses rely heavily on the running game, making Hyde a integral part of what the team wants to accomplish this season.
The offense will rely on a revamped and hopefully improved offensive line, which was nothing short of a disaster last year.
Anthony Davis
returns from a year off and has moved in to the right guard position from his previous spot at tackle. That leaves
Trent Brown
, a second-year player acquired in the seventh-round of the 2015 draft, at right tackle. The 6-foot-8 and 355-pound Brown has been praised by the coaching staff, teammates, and even the reigning Super Bowl MVP – outside linebacker
Von Miller
.
"I feel like Trent Brown has a very bright future in the National Football League," said Miller
during teammate DeMarcus Ware's "Talk Now" show
. "He's 6-foot-8. He knows how to use his arms, knows how to use his wingspan and he has length. So I feel like he's young and people haven't really seen him, but I feel like he's one of the better tackles in the National Football League."
"I don't throw this around lightly, he can be as good as anyone in the NFL that's ever been," said teammate
Joe Stale
y
via CSN Bay Area
. "You see him and you think
Jonathan Ogden
, the plays that he would make when he was playing. He's got a ways to go before he's there, but he has all the talent to be Jonathan Ogden-esque."
Case Keenum
will start at quarterback for the Rams. Rookie
Jared Goff
, the top draft pick that Los Angeles gave up six picks for, will not dress for the game. However, the Rams offense will be focused around second-year running back
Todd Gurley
, the 2015 NFL Offensive Rookie of the Year. Gurley, who compiled 1,106 yards rushing and 10 touchdowns through just 13 games and 12 starts, gained 128 yards or more in five games. The Rams were 4-1 during those five matchups. Gurley missed the 2015 finale against the 49ers.
Week 17 of the 2015 Season
Quarterback
CP/AT
YDS
TD
INT
Blaine Gabbert, SF
28/44
354
1
1
Case Keenum, StL
22/37
231
0
0
Al Sacco's Key Matchup: 49ers O-line vs. Rams D-line
When you look at where the Niner's o-line was last year at this time, it's crazy to think that the unit could now be the strength of the offense, but here we are. The front five are vastly improved and anchored on the outside by perennial Pro-Bowler Joe Staley and upstart Trent Brown. We know all about Staley, but Brown's a player to watch. Brown looked so strong this preseason that it prompted Super Bowl MVP Von Miller to say he thinks he's one of the best tackles in the NFL. That's high praise for someone with only two career starts. The guard position may be one of the deepest in the league as
Zane Beadles
and Anthony Davis will start, but if an injury occurs or either struggles, they have first round pick
Joshua Garnett
and
Andrew Tiller
readily available. The underrated part of this unit is
Daniel Kilgore
, who may have been the team's best lineman in 2014. With Kilgore healthy and ready to anchor the line at center, this is all of a sudden a sneaky good unit.
They'll need to be on their game though, as the Rams boast a dominant defensive line, led by the best player no one knows about at defensive tackle, Aaron Donald. With 20 sacks in his first two seasons, Donald is a dominant pass rusher who can also stop the run. Add in
Robert Quinn
,
Michael Brockers
and
Willam Hayes
, and the 49ers will have their hands full up front.
Considering the questions at receiver, it's safe to assume the Niners will play an inside out passing game, which means they'll throw a lot to their tight ends and running backs. In turn, big plays will be hard to come by, so controlling the game's pace via the running game is essential. If San Francisco can win the battle upfront, and actually score 20 points in the process, I think they can come away with a win.
News from the Week
The big storyline from this week was the release of
TE Bruce Miller
following
his arrest for assault
on Sunday night. Miller assaulted a guest and his father at a Fisherman's Wharf hotel. The two were transported to a hotel with injuries after Miller fled the scene. He was charged with seven felonies and one misdemeanor, including assault with a deadly weapon and one count of battery with serious bodily injury.
The 49ers acquired
WR Rod Streater
via
a trade with the Kansas City Chiefs
on September 3. He joins newcomer
Jeremy Kerley
, the wide receiver that the 49ers acquired via
a trade with the Detroit Lions
on August 28.
On Saturday, a report indicated that
Anthony Davis
, the team's starting right guard, was once again pondering retirement.
After meeting with team officials and the coaching staff
, who were trying to convince him to remain, Davis is leaning toward playing according to multiple sources. It was a bizarre storyline that dominated 49ers headlines and chatter late Saturday.
Key Times and Events for Game Day
Levi's Stadium parking lots will open at 3:50 p.m. on Monday. Faithful Mile and premium gates will open at 4:20 p.m. and all gates to the stadium will open at 5:20 p.m.
The National Anthem will be performed by Lindsey Stirling, whose third studio album "Brave Enough" scored a top five Billboard debut.
Halftime entertainment will feature a performance by the Air Force Band of the Golden West and the 49ers official drumline, Niner Noise.
Matchup Information
Kickoff:
Monday, September 12 at 7:20 p.m. PT
All-Time Matchup:
49ers lead series 66-64-3
Last Meeting:
1/3/16, 49ers win 19-16 (OT), at SF
Current Streak:
Won 1
Betting:
The Rams are 2.5-point favorites
NFL Fan Picks:
59% pick the Rams to win according to
Yahoo! Sports
49ers Fan Picks:
Within our
Pick 'em Contest
, 84% believe the 49ers will win
49ers Schedule:
View full schedule
Rams News:
Rams news at Problitz.com
Follow Game Online:
NFL.com's Game Center
Discuss:
Niner Talk forum
Follow Us:
Facebook
,
Twitter
,
Google+
Television and Radio
The game will be televised on
ESPN
(Check
506 Sports
to see if it is local) with Chris Berman (play-by-play), Steve Young (color analyst), and Lindsay Czarniak (sideline reporter).
KGO 810 AM
and
The Bone 107.7 FM
(
Other markets
) will carry the radio broadcast with Ted Robinson (play-by-play) and Tim Ryan (color analyst).
ESPN Deportes
and
KKSF 910 AM
will carry the spanish radio broadcast.
San Francisco 49ers Injuries
Questionable:
DT
Arik Armstead
(shoulder), LB Nick Bellore (knee), OT Anthony Davis (not injury related), DT Quinton Dial (knee), DT Glenn Dorsey (knee), CB Keith Reaser (ankle)
Doubtful:
CB Chris Davis (hamstring)
Los Angeles Rams Injuries
Out:
WR Pharoh Cooper (shoulder), CB E.J. Gaines (thigh), WR Nelson Spruce (knee)
Questionable:
LB Bryce Hager (concussion), OT Rob Havenstein
Preseason Game Averages (Rank)
| Rams | | 49ers |
| --- | --- | --- |
| 20.8 (9th) | Offense Pts | 21.2 (6th) |
| 298.2 (20th) | Offense Yds | 347.2 (5th) |
| 162.5 (28th) | Offense Pass | 163.0 (27th) |
| 135.8 (5th) | Offense Rush | 184.2 (1st) |
| 22.0 (27th) | Defense Pts Allowed | 22.5 (28th) |
| 301.5 (13th) | Defense Yds Allowed | 322.0 (23rd) |
| 203.2 (17th) | Defense Pass Allowed | 205.8 (18th) |
| 98.2 (18th) | Defense Rush Allowed | 116.2 (22nd) |