Videos are auto-populated by an affiliate. This site has no control over the videos that appear above.
On Thursday, San Francisco 49ers
QB Colin Kaepernick
met with the media for the first time since the end of the 2015 season. He tried to spend a lot of time with the media and even told a 49ers employee that he would stay to answer more questions when that employee tried to end the interview.
Obviously one of the hot topics was his trade request earlier this offseason. "We were looking at different opportunities," Kaepernick said. "I really don't want to get into specifics of what happened, why things happened. At this point, everything is football. I'm a 49er. Once again, excited to work with Chip and this coaching staff."
He shied away from further questions surrounding the topic stating, "I'm not going to get into specifics," and later saying, "I'm here to talk about football. I'm excited to be here."
Colin Kaepernick Addresses Media at Minicamp
Kaepernick was much more responsive to questions and more willing to answer questions at length than he has been in the past. That has been a criticism of the quarterback for some time now. When asked about where this new talkative side of him was coming from, Kaepernick laughed and said, "From the soul."
Kaepernick spoke a little about being back on the practice field for the first time. He spoke a little about being on time with throws in his mind, but a little late physically. "I thought Wednesday was a really good day as far as making a step in that coordination and being on time with throws and things like that so I was excited about that," said Kaepernick.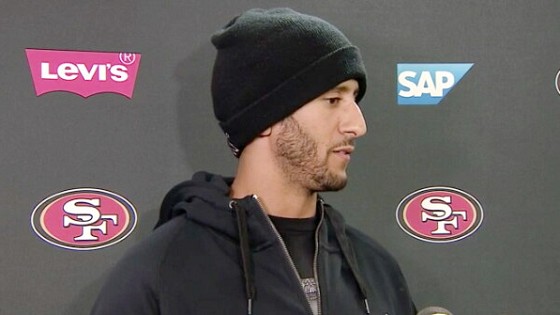 When asked about the coaching change and if he can benefit from it, Kaepernick responded, "Chip's been phenomenal. Chip [Kelly], Curtis [Modkins], Ryan [Day], they've all been phenomenal, very focused on details, and making sure everybody's prepped for what we're doing. We know what we're doing when we step on the field so we can go out and play with a clear mind. And Chip brings a lot of excitement with this offense and what he's been able to do in the NFL and I think everybody on the team is excited to play for him."
Kaepernick was asked what he would have to do to win the quarterback competition and his answer was very simple. "Compete. That's all I know how to do. Every year that I've stepped on the field, it's a competition whether people like to say you're the number one or not," said Kaepernick.
Kaepernick said that he has not yet had any discussions with general manager Trent Baalke following everything that occurred this offseason.
Regarding his injury and playing through it last season, Kaepernick said, "At the time I didn't realize how bad things were until I went and got a second opinion and really saw what had happened, but at this point, I'm close to being 100 percent healthy."
RELATED
June 9 Minicamp Notes: Colin Kaepernick throws two straight picks as minicamp ends
"From my standpoint, I have a great relationship with my teammates. I really can't answer that for them, how they view me. That's a better question suited for them," Kaepernick said in regards to various reports stating that he is distant.
"To be perfectly blunt with you, I didn't play my best football last year. Injury, no injury, I wasn't playing my best football and that's something that I'm excited about for this season is being able to redeem myself, go out there, and play well and prove to everybody what I'm capable of," Kaepernick said when asked about last season.
When asked if his injuries will cause him to be more cautious in the future, Kaepernick said it would not. "My style of play is my style of play so I should be able to continue with that and be able to do those things and do what this offense requires of me."
Kaepernick has been taking part in the team's mandatory three day minicamp, which concluded today. He was able to participate in individual and 7-on-7 drills, but say out 11-on-11 drills. Prior to this week, he had been mostly limited to throwing footballs with trainers on the side of the practice field and mimicking the quarterback motions while on the practice field.
The interview ended with a member of the media jokingly asking Kaepernick if he knew that he more than tripled his longest press conference of his career. Kaepernick laughed and said, "I'm going for records this year." The interview with the media lasted 18 minutes.
Related News