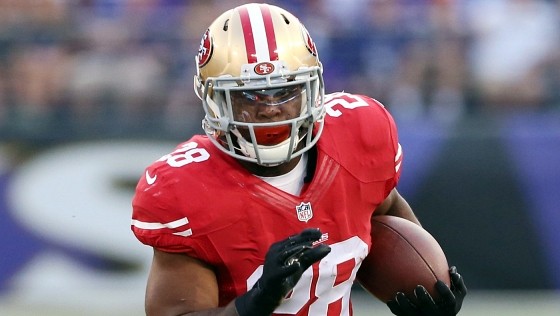 The Houston Texans will host the San Francisco 49ers today at NRG Stadium in Houston, Texas.
Last week, the 49ers (1-2) beat the San Diego Chargers 21-7 at Levi's Stadium. The Texans (2-1) beat the Denver Broncos 18-17 at Sports Authority Field at Mile High.
While Texans starting quarterback, Ryan Fitzpatrick, will get the night off, 49ers head coach Jim Harbaugh has already said that quarterback Colin Kaepernick will play in the game. However, his playing time will be limited. The starting offense has struggled during the preseason. This will be their last chance to get some playing time in prior to the regular season opener against the Dallas Cowboys on September 7.
Following the 49ers' win against the Chargers on Sunday,
Kaepernick was asked about the offense's struggles
. He responded by saying "Well, it's the preseason. We're worried about the games that count."
It will also be the last chance for players like
running back Glenn Winston
to show the 49ers -- and perhaps other teams -- why he deserves to be on an NFL roster. On Sunday, he led the 49ers running backs with 8 carries for 58 yards (7.2 average) and a touchdown.
The game kicks off at 5:00 PM PT and, as usual, you can visit 49erswebzone.com for the latest news and updates during and after the game, including a live blog by writer Jack Hammer.
The Texans are 3 point favorites.
Within Yahoo! Sports, a popular mobile scores application, 71% of fans believe that the 49ers will win this game.
Be sure to join our
NFL Pick 'em Contest
before the start of the season for bragging rights and prizes.
You can follow the game live on
NFL.com's Game Center
.
You can also discuss the game with fans in the
49erswebzone.com forums
. Become a fan of 49erswebzone.com on
Facebook
and
Google+
or follow us on
Twitter
.
Television
The game will be televised locally on KPIX 5. It will be rebroadcast on NFL Network on August 29 at 9:00 PM PT.
Radio
You can listen to the radio broadcast on KGO 810 & The Bone 107.7 FM.