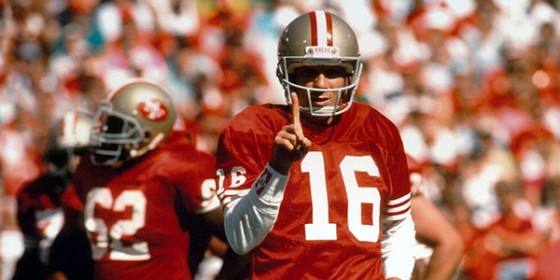 San Francisco 49ers legend Joe Montana has made it to the final two of NFL.com's "Greatest Quarterback of All Time" bracket. The March Madness style playoff started with 32 quarterbacks broken up into 4 smaller brackets. Those brackets were the
Right Now Bracket
, the
Generation X Bracket
, the
Millenials Bracket
, and the
Baby Boomer Bracket
.
Montana was placed within the Generation X Bracket as a number one seed. Others in that bracket included Dan Marino (2), John Elway (3), Jim Kelley (4), Warren Moon (5), Dan Fouts (6), Phil Simms (7), and Boomer Esiason (8).
During the first round, Montana beat Boomer Esiason with 98% of the votes. During the second round, Montana beat Jim Kelly with 92% of the votes. During the third round, Montana beat Dan Marino with 72% of the votes. During the fourth round, Montana beat
Tom Brady
with 66% of the votes.
Now, in the final round, he faces Johnny Unitas, a number one seed from the Baby Boomer Bracket, who is coming off of a victory over Donovan McNabb (5). Currently, Montana is in the lead of that battle with 81% of the votes.