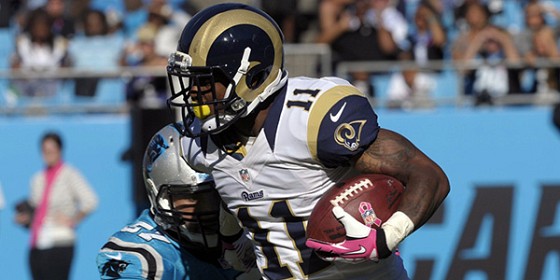 This afternoon, the San Francisco 49ers will host the St. Louis Rams at Candlestick Park. The two teams last met on September 26 of this season when the 49ers beat the Rams 35-11 in St. Louis.
Offensively, the 49ers are ranked 30th in the league while the Rams are ranked 23rd. Defensively, the 49ers are ranked 6th in the league while the Rams are ranked 18th.
Today's game will feature the return of the 49ers' top receiving threat from their 2012 Super Bowl run season. Michael Crabtree was activated this week and is expected to play against the Rams. He practiced most of this week and has said that he is ready to play. The 49ers are also trying to stay ahead of the Arizona Cardinals in the race for the final NFC wildcard spot. Right now, they are in a very slight lead for the 6th seed in the NFC. Any loss could jeopardize that lead.
While 49ers quarterback Colin Kaepernick played relatively well in last week's victory over Washington, his 2013 play has been a letdown. He has passed for more than 200 yards in just three games (Green Bay, Arizona, at Washington) this season. However, three of their next four games are against sub-500 teams with three of the next four being played at home.
On defense, the 49ers will try to contain receiver Tavon Austin. The 49ers defense has not allowed a play of 50 yards or more in the past four games and their last eight opponents have averaged just 12.5 points per game. Austin had two plays of over 50 yards and a 98-yard punt return against the Indianapolis Colts. Last week, against the Chicago Bears, he had a 65-yard touchdown run.
49ers running back Frank Gore, who has had 14 rushing touchdowns against the Rams, has been limited to just 79 yards over the past two weeks. He hopes to turn things around today. During week 4 against the Rams, Gore rushed for 153 yards and a touchdown. The Rams themselves have been dangerous on the ground in recent weeks. Led by running backs Zac Stacy and Benny Cunningham, they have rushed for an average of 189.5 yards in their past four games.
Last week, the 49ers (7-4) defeated the Washington Redskins 27-6. The Rams (5-6) defeated the Chicago Bears 42-21.
The game kicks off at 1:05 PM PT and, as usual, you can visit 49erswebzone.com for the latest news and updates during and after the game.
The game will be televised on FOX. The 49ers are 7.5 point favorites.
Within Yahoo! Sports, a popular mobile scores application, 78% of fans believe that the 49ers will win this game.
Within our
Pick 'em contest
, 97% of fans believe that the 49ers will win this game.
You can follow the game live on
NFL.com's Game Center
.
You can also discuss the game with fans in the
49erswebzone.com forums
. Become a fan of 49erswebzone.com on
Facebook
and
Google+
or follow us on
Twitter
.
49ers Injury Report
Out:
G Mike Iupati (knee), CB Tarell Brown (ribs)
Questionable:
LB Ahmad Brooks (stinger), TE Garrett Celek (hamstring), DT RayMcDonald (ankle), WR Quinton Patton (foot), LB Aldon Smith (shoulder)
Probable:
LB NaVorro Bowman (knee, shoulder), RB Frank Gore (ankle), WR Mario Manningham (knee), LB Dan Skuta (foot), DT Justin Smith (shoulder)
Rams Injury Report
Questionable:
G Harvey Dahl (knee), S T.J. McDonald (shin), CB Brandon McGee (foot)
Probable:
CB Trumaine Johnson (concussion), RB Zac Stacy (concussion), G Chris Williams (concussion), LB Will Witherspoon (not injury related)
Article photo by Sam Sharpe of USA Today Sports
You May Also Enjoy...