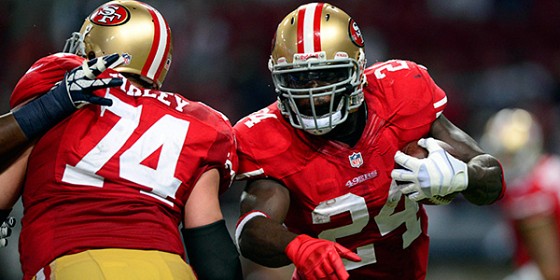 Unless you
follow us on Facebook
, this piece of news may have fallen between the cracks. Just prior to yesterday's 49ers and Jaguars kickoff in London, NFL.com's Ian Rapoport reported that the San Francisco 49ers were interested in trading running back Anthony Dixon.
Another player on the block, according to @NFL execs: #49ers RB Anthony Dixon. In a RB-needy league, he's only making $630,000. We'll see

— Ian Rapoport (@RapSheet) October 27, 2013
Dixon has been a key player on special teams and has been occasionally used in third-down situations. For the season, Dixon has rushed 15 times for 35 yards and 2 touchdowns. On Sunday, Dixon replaced wide receiver Kyle Williams, who struggled returning the ball on special teams. Dixon's lone kickoff return was for 47 yards.
Dixon was a sixth-round selection in the 2010 NFL Draft. A trade would make sense. The 49ers need to clear up six roster spots for players returning from injury and Dixon is scheduled to become a free agent at the end of this season. Although, it is unlikely that the 49ers would be able to get much for Dixon.
The trade deadline is on Tuesday at 1 PM Pacific.