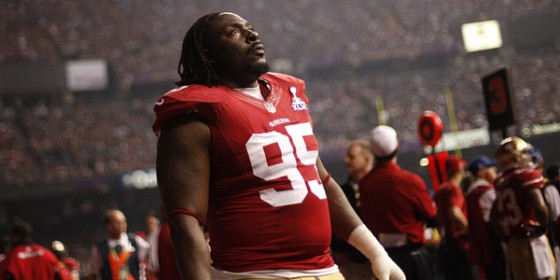 According to Jim Wyatt, a beat writer for The Tennessean, the Tennessee Titans are one of the teams interested in San Francisco 49ers defensive tackle Ricky Jean Francois.
Earlier today, Matt Barrows of the Sacramento Bee reported that there were
five teams interested
in Jean Francois, but his agent declined to discuss which teams they were. The 49ers also contacted Jean Francois' agent, Thomas Kleine, showing some interest in retaining the player.
The Green Bay Packers have also mentioned that
they were interested
in Jean Francois, but it is unknown if they are currently pursuing him.
Jean Francois will become a free agent on Tuesday at 1 PM Pacific, when he can sign with any club. He has played four seasons with the 49ers. During that time, he has had 49 tackles, 3 sacks and a forced fumble. He only has five NFL starts during that time.