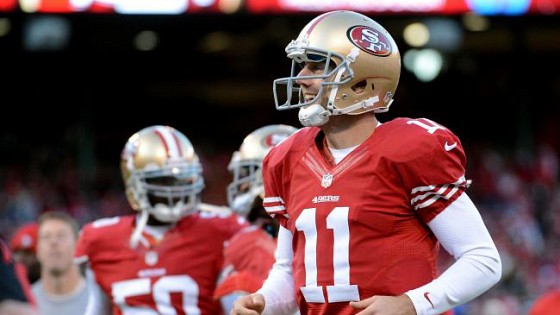 Earlier today, it was reported by Kent Somers of azcentral.com that the Arizona Cardinals
have become interested
in trading for San Francisco 49ers quarterback Alex Smith. Somers said that, according to a source, the Cardinals are "intrigued by Smith's experience, intelligence and talents."
It has been reported that the Cardinals are also looking into the possibility of bringing back Kevin Kolb at a reduced salary and drafting a quarterback in the first three rounds of the NFL Draft in April. The Cardinals traded for Kolb in 2011.
Many are pessimistic that the 49ers would trade Alex Smith within the division. On Sunday, Jason La Canfora of CBS Sports reported on that the 49ers had expressed that a deal to trade Smith is already done and will be finalized once free agency begins on March 12. No player trade can be made official until the start of the league year on that date.
La Canfora stated that they Kansas City Chiefs and Jacksonville Jaguars made the most sense as possible trade destinations for Smith. Jaguars GM Dave Caldwell was quick to state that they were not the ones that had a deal in place, as did the Cleveland Browns, another team that has been linked to Smith trade rumors. Although, it is widely assumed that the Browns would be interested in Smith for the right price.
On Sunday and Monday, the 49ers denied that a deal was already in place and insisted that they are still shopping Smith around the league.
The Chiefs have been said to be interested in Smith for a while now. In late January, it was reported that new Chiefs head coach
Andy Reid really liked Smith
.
The 49ers may simply be using the Cardinals, Browns, and possibly even the Chiefs, to drive the price up on Smith. On Sunday night, former Chiefs GM Scott Pioli said on the NFL Network that the 49ers
could get a second- or third-round draft pick in exchange for Alex Smith
.