The San Francisco 49ers return to the Super Bowl for the sixth time in franchise history and first time since 1994, as they travel to New Orleans to face the Baltimore Ravens in Super Bowl XLVII. The five-time Super Bowl champions (XVI, XIX, XXIII, XXIV, XXIX) look to tie the Pittsburgh Steelers for most Super Bowl victories in NFL history.
Super Bowl XLVII marks the first time in history that the two clubs have met in the postseason. 49ers head coach Jim Harbaugh will square off against his older brother, Ravens head coach John Harbaugh, in the first Super Bowl in which sibling head coaches have faced one another and in each coach's first Super Bowl appearance.
The 49ers, who were the NFC's 2nd seed, earned a trip to the Super Bowl with a 28-24 victory over the Atlanta Falcons in the NFC Championship Game, after trailing 17-0 in the first half. The 17-point comeback was the 2nd largest deficit overcome to win a conference championship (2006 - Indianapolis trailed New England by 18 points).
The Baltimore Ravens, who were the AFC's 4th seed, are coming off of a 28-13 win over the New England Patriots in the AFC Championship Game.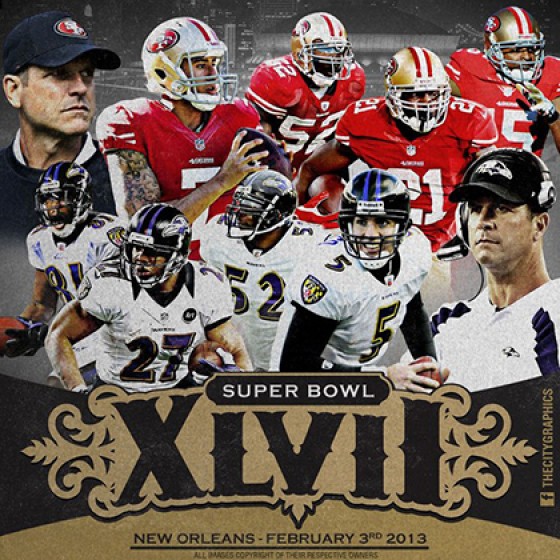 The game kicks off at 3:30 PM PT and, as usual, you can visit 49erswebzone.com for the latest news and updates during and after the game.
The game will be televised on CBS. Locally, the radio broadcast of the game will be on KGO 810 AM and The Bone 107.7 FM.
Within our
2012 NFL Pick 'Em Contest
, 93% of fans fans believe that the 49ers will win this game.
Within Sportstacular, a popular mobile phone scores application, 59% of fans believe that the 49ers will win this game.
You can follow the game live on
NFL.com's Game Center
.
You can also discuss the game with fans in the
49erswebzone.com forums
. Become a fan of 49erswebzone.com on
Facebook
or follow us on
Twitter
.