San Francisco 49ers wide receiver Marquise Goodwin has been wearing all white since the death of his son last month. Just hours before the team's Week 10 matchup against the New York Giants, his pregnant wife, Morgan, faced complications and had to deliver the baby prematurely. Their child did not survive.
Goodwin ended up playing in the game against the Giants and scored a tone-setting 83-yard touchdown in what would become the 49ers' first win of the season.
"The white symbolizes my growing period,"
Goodwin told Joe Fann of 49ers.com
. "When we lost our child, I wanted to challenge my mind to keep focused on something else. ... It keeps me from feeling sorry for myself. It helps me through this."
Sunday is the 49ers' final game of the season, and the team traveled to Los Angeles where they will play the NFC West champion Rams. The official 49ers Twitter account posted travel photos as the team headed to Southern California.
Within the tweet, there is a photo of the receivers group. They, along with Goodwin, are wearing all white, as you can see in the picture below.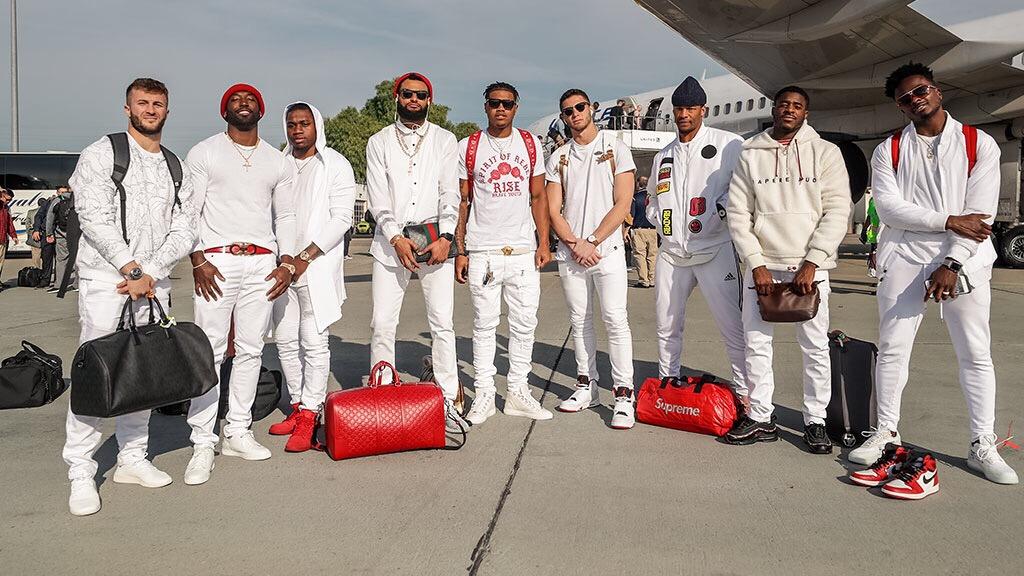 In the photo (from left to right) are Trent Taylor, Aldrick Robinson, DeAndre Carter, Louis Murphy, Kendrick Bourne, Max McCaffrey, DeAndre Smelter, Victor Bolden, and Goodwin.
h/t to Cam Inman of Bay Area News Group for pointing this out.