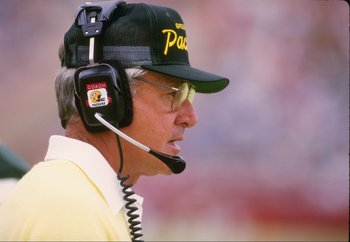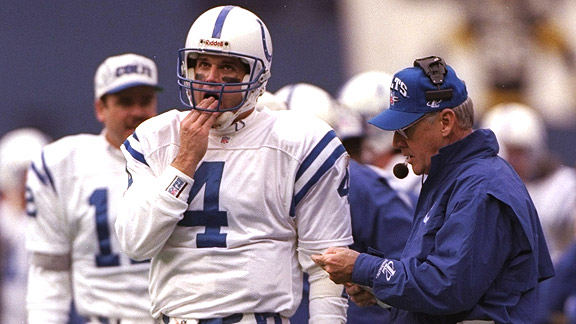 http://espn.go.com/blog/nfcwest/post/_/id/38580/reflections-on-harbaughs-coaching-roots
http://espn.go.com/blog/nflnation/tag/_/name/lindy-infante

Through four years at Michigan and seven more in the NFL, Jim Harbaugh had never seen anything like the offensive wrinkles his Indianapolis Colts were installing back in the 1990s. Coach Lindy Infante was teaching new and varied ways to read pass routes from a quarterback's perspective. The quarterback -- Harbaugh, in this case -- could take a three-step drop, survey his options to one side, then check out the other side on a five-step tempo, for example. It's routine stuff now, but it wasn't then. "I had never seen that before," Harbaugh said before the draft. "I didn't understand it." Harbaugh figured it out because that's what quarterbacks do. They adapt. They learn. They grow. With persistence and a little luck, they succeed. The San Francisco 49ers need all of the above from their newest quarterback.

http://espn.go.com/blog/nfcwest/post/_/id/37279/kaepernick-a-qb-challenge-for-harbaugh
As much as Harbaugh is talked up as bringing the West Coast Offense "back" to the 49ers, the roots of his offense are with his former offensive coordinator and coach with the Colts, Lindy Infante. It is Infante's option-read passing system that Harbaugh has replicated at his various coaching stops, along with bits and pieces from various other coaches he was involved with, ranging from Bill Callahan, Marc Trestman, Marty Morhinweg, and others The essence of this offense has been its QB-friendly nature, quarterbacks such as Don Majkowski, Ken Anderson and Harbaugh had career years playing in infante's system. Infante's offensive tenets have as much or more sway in this system as Walsh's did and although they were quite varied systems, especially in their terminology, the effect often times was quite similar.
http://www.jsonline.com/blogs/sports/124512283.html
"I realized it was my favorite offense when I played for Lindy Infante (1996-'97)," Harbaugh told the Sacramento Bee. "Different terminology than the West Coast, but it really was a West Coast offense. So that was a winning, proven system that I felt was the best system as a player and a coach."