I am more confused than a redneck with his female, or not, cousin. What in the name of Captain Hindsight
is going on around here anyway?
As many of you know, I've been around a long ass time. I have read, witnessed, modded, or taken part in just about every crazy ass debate that has gone on in Ninertalk. I was one of the
fools
that sought, drooled over, this man....
I am, of course, happy to report that he no longer is this bad and has turned into a "nice" QB. I wish him and his family well. (BULL s**t DETECTOR.COM TRANSLATION SAYS: "We will smoke his small handed ass! RAWR!")
I recognize, therefore, tensions in Ninertalk better than most. But, as of today, I must say that I am f**king impressed. Maybe we are all aging. Maybe its hubris--I'll come back to this. Maybe we are hoping like hell that San Antonio takes the Raiders, whatever the f**k it is, you dudes have changed.
Think about what we have seen. I have been asking myself this question quite a bit lately: "What the hell was this offseason all about anyway?" Let's recap, shall we?
Harbs vs. Baalk
Grand Theft Auto: Cully Lockdown Corner Edition
False accusations about our QB (TEACHERS! LEAVE THEM KIDS ALONE!
Pink Floyd
ref #1)
There is, of course, also this handsome, crazy, and I am very pleased to report, sober devil:
So, we got past all of that s**t. Only to be rewarded with several bright shiny turds over the past few weeks.
Again, let's recap it: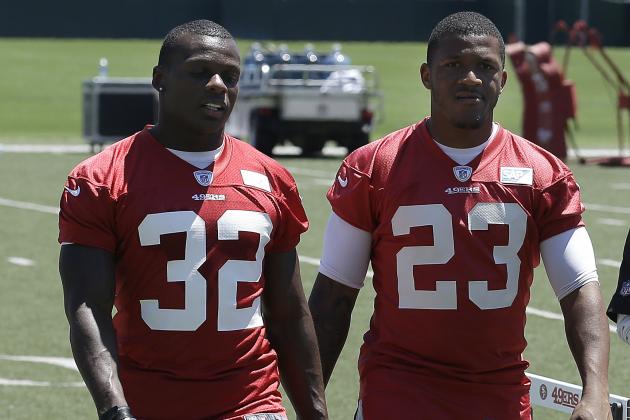 Do you know these two? One you do know, his name is Kendall Hunter. When healthy, say two years ago, he was an excellent change of pace back for the Niners. Now, for the second time in as many years, he is out with a season ending knee injury. Get well, Kendall!
Who's the other guy in the photo? I dunno some dude from Oregon who has still not arrived, but will be out for a bit as well. MEMO TO LMJ, now or never, man. Now or never. C'MON MAN! WE NEED YOU! WE GOT YOU!
Then a couple of WR's went down for the next couple of weeks:
Crabs and Lloyd, the latter especially,
needs reps with the first team. The dude is running his route backwards! No wonder he ducked the damn ball. Seriously, Lloyd losing time hurts his chances. I would love redemption for him. He seems more mature, more humble, and he gave up the hippty-hop!
All of you know my deep affection for Navarro Bowman. So no need to show the "picture". Our defense is adapting without him. The injury gods don't give a fuuuuuuuu, though. To prove it, they dropped a M.O.A.B. on training camp, and as a result, it landed squarely on our defensive line.
It appears that Mr. Dorsey is out for the ……… foreseeable future. I won't, and the Niners won't, say anything else till we know.
Now, let us be clear, crystal clear. This season is not about any of the following:
Just getting to the playoffs
Breaking in a new stadium named after something you wear on your ass.
Getting revenge on the Seahawks
Getting to the NFC title game and losing
Getting to the NFL Championship game and losing
This is an all caps moment, I apologize.
IT IS ABOUT GOING TO AND WINNING THE SUPER BOWL! THE FATE OF THE NINER UNIVERSE, JIM'S BANK ACCOUNT, AND RIC
FLAIR ARE ON THE LINE HERE!
So why is it, after all these years, that all I hear is positive thinking? Holy s**t stains, Batman! Is it possible that we have moved from the victim to the
victor
? Over the course of this month, I am going to explore this phenomenon further.
[ Edited by fropwns on Aug 3, 2014 at 11:08 AM ]