Originally posted by thl408:
Thanks for posting that. I guess I fell for that trap of having the last game of the season define his entire season. He struggles with speed rushers, but that is true for many RTs. He can use some improvement in foot speed that is for sure.
It's all good, man. I fell for the same trap directly after the loss. AD is a good player who had a bad game. Like you mentioned, AD struggles with speed rushers, but so do many RTs. Does anyone really excel against speed rushers for that matter? Staley is one of the most athletic, nimble OTs in the league and even he's had issues with the speed rushers at times.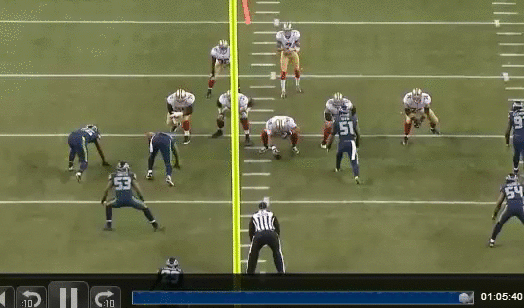 On this play, it looks like AD initially is preparing to pick up Bennett. Bennett starts his rush toward AD, before spinning back toward Boone. That subtle move was enough to delay AD from turning to face Avril, throwing off his balance. That's why Avril had such an easy time driving him back into the pocket. It's a mental error by AD, as he needs to trust that Boone will pick up Bennett, and his priority should be the outside rusher.