A few selected plays, mostly from the 1st quarter when the offense stalled.
1. Press man with a deep saftey. It's a look Kap has seen much of in the past couple weeks. The LB (blue square) will be coming unblocked on a blitz. Would you trust Boldin in the slot 1on1 here?
below: Kap's first read is Boldin. Would you pull the trigger? One frame later, Kap sees the LB coming unblocked and scrambles right.
The picture in picture (PiP) shows Boldin gaining the separation. It's a blitz and the play has 5 receivers in routes. Kap needs to find the hot route. He doesn't trust what he saw with Boldin.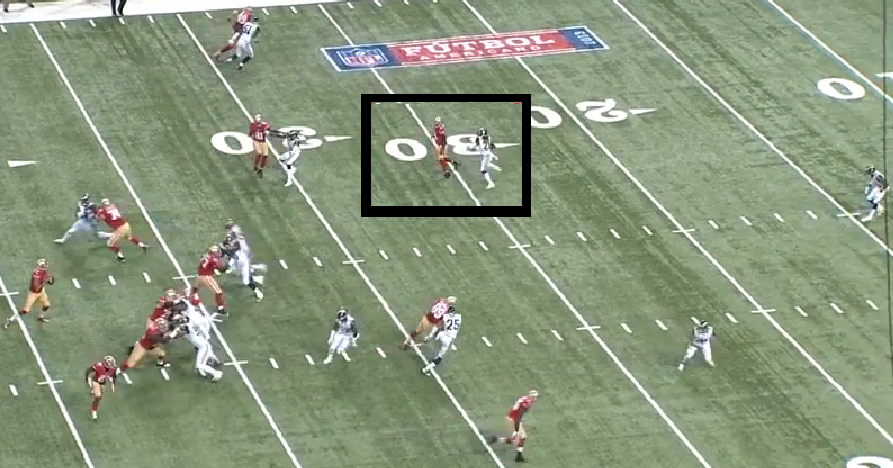 2.
This is the play Mayock calls out Kap for being a 1 read QB during the live broadcast while watching a replay of this play. The exact quote:"And Kaepernick's a one look guy..." and points out how Miller (slot) was wide open in the middle of the field.
Below: This was a designed screen pass. I missed this during the game, wondering if anyone saw this. The red square is Goodwin, Iupati, and ADavis ready to go to the second level. The red arrow is Hunter ready to receive. Kap does not pull the trigger and it's a Quinn sack as he kisses his bicep. Point is, not much coverage to read here with a screen pass. Need to put the ball where it's supposed to go. Kap may have seen some daylight, with blockers, and wanted to run this himself(?)
Note: the LB (blue square) makes a fantastic read and would have blown this play up as he beats Iupati to the spot.
[ Edited by thl408 on Oct 2, 2013 at 12:03 AM ]