So I was playing catch with my cousin at the tailgate and I threw the ball to him... He was on the other side of some cars... right by the former player and VIP entrance...He was taking his sweet ass time to throw it back... and I'm yelling "THROW IT!!! WTF'S TAKING YOU SO LONG!!!" I'm kinda seeing a commotion through the car windsheilds and tailgate canopies... but I didn't think twice about it....
So he's walking back with the ball and I'm like "WTF Man... U had me waiting hella long... why didn't u throw it back???" and he goes... "Man look what I got you!" and hands me my ball back...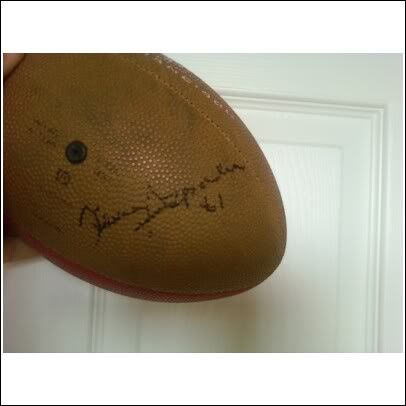 He was on one of them golf carts going up and down the parking lot saying hi to the fans... Pretty tight... Too bad it was on my used ball that I've had for years... but better than nothing!
[ Edited by zozell on Oct 5, 2009 at 16:53:54 ]