With trade chart equal value and 5 possible trade partners, the 49ers move up to gain three picks in the top 40 and get to as high as #15.
49ers Give:
2014
#30 #56 #61 #77 #94 #129 #170 #245
2015
2nd round
or
1st round
RB LaMichael James
Possible Trade Partners:
Dallas Cowboys
Jacksonville Jaguars
Miami Dolphins
Oakland Raiders
Pittsburgh Steelers
49ers DRAFT:
DB
Justin Gilbert OKLAHOMA STATE
6'-0" 202 4.37 40
Per NFL.com
"Outstanding size-speed ratio and athletic ability. Fluid movement skills -- makes it look easy flipping his hips and reacting to the thrown ball. Very good transitional quickness and recovery speed. Superb feet and agility to pop out of his breaks and close on the ball -- explosively quick. Natural interceptor with very good hand-eye coordination, leaping ability and overall ball skills. Very good vision and traffic burst as a returner (six career kickoff-return TDs)."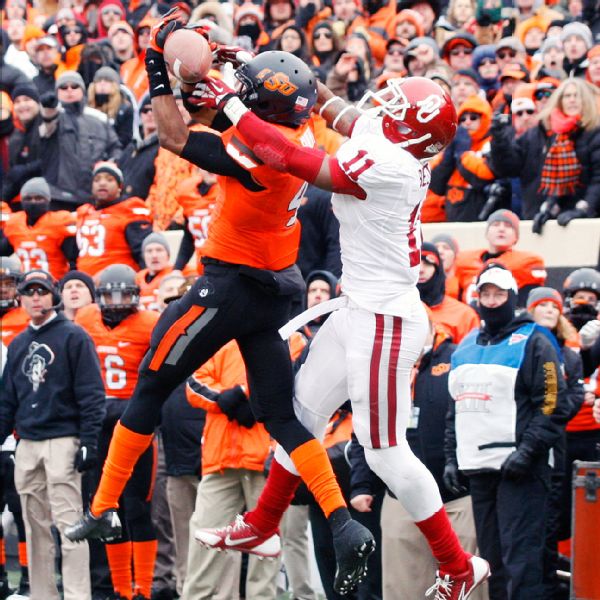 WR Brandin Cooks OREGON STATE
5'-10" 189 4.33 40
Per NFL.com
"Light on his feet with terrific balance. Sinks his hips with ease and pops out of breaks to separate. Tracks and adjusts. Quick hands. Good concentration, body control and boundary awareness. Can turn a short throw into a long gain. Shows elusiveness, creativity and vision after the catch. Unafraid to play in the tall trees. Highly productive -- totaled 195 receptions for 2,881 yards (15.4-yard average) and 21 TDs in last two seasons. Confident and competitive. Has been exceptionally durable dating back to high school. Team captain. Will be a 21-year-old rookie."
CB Jason Verrett TEXAS CHRISTIAN
5'-10" 189 4.37 40
Per NFL.com
"Quick, twitchy and explosive popping out of his pedal. Good eyes, anticipation and footwork. Very feisty and athletic. Outstanding instincts. Superb reactive quickness and recovery speed. Very good ball skills -- consistently makes plays on the ball. Very willing in run support and plays bigger than his size. Athleticism was on display at the combine -- 40-yard dash (4.38 seconds), 3-cone drill (6.69), short shuttle (4.00) vertical jump (39 inches) and broad jump (10 feet, 8 inches) ranked among the best of the cornerbacks." RD 3 #100
DT Justin Ellis LOUISIANA TECH
6'-2" 334
Per NFLDRAFTSCOUT.com
"Large, wide body and carries his weight well. Long arms for his frame and extends well, using his active hands to work off blocks. Has really improved in this area, bullying with heavy hands. Explosive off the ball and a quick thinker, reacting well to what the blockers want to do. Attacks with pure momentum, not afraid to use a spin move, making it tough for blockers to latch on. Load to handle. Good pocket vision and awareness to track and crash down on the ball or chase the ballcarrier outside. Anchors well at the point of attack and has a stout build. Nice job getting his paw up to swat the ball out of the air. Nonstop motor and ferocious demeanor. Try-hard type who gets the most out of his ability. Versatile experience, lining up at various inside positions in college."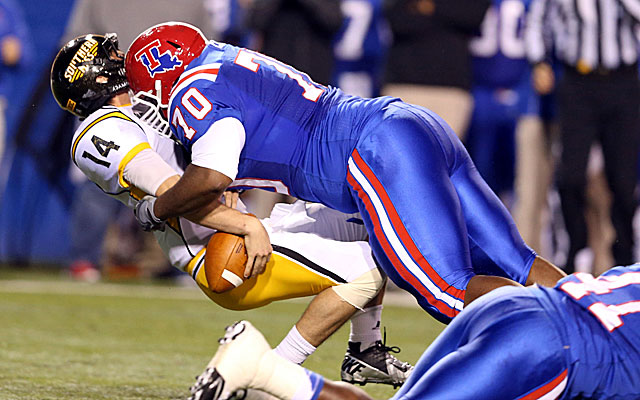 RD 7 #242
OLB Khairi Fortt CALIFORNIA
6'-2" 250 4.69 40
Per NFLDRAFTSCOUT.com
"Good size with a muscular build. Field fast -- moves like a safety. Very athletic and agile. Plays on his feet and bends naturally. Excellent lateral agility -- flows smoothly and has sideline-to-sideline range. Uses his arms like flippers to play off blocks. Loose-hipped to drop into coverage and match with backs and tight ends. Has traits to excel on special teams. Bench-pressed 225 pounds 30 times, tied for most among linebackers at the combine." RD 7 #243
OT/OG Justin Britt MISSOURI
6'-6" 325
Per NFLDRAFTSCOUT.com
" Looks the part of today's prototypical left tackle, possessing impressive height, very long arms and a trim middle. Good initial quickness, especially as a run blocker, firing off the ball to turn and seal defenders from the action. Physical. Gets a strong initial shove on the opponent, which oftentimes is enough to knock them onto their heels. He has a wide base with good bend and flexibility in his kick-slide to keep the pocket clean. Plays with his knees bent, butt down and on the balls on his feet, giving him good balance. Slides well laterally to mirror defenders and uses his arm length and powerful shoves to keep opponents at bay. Good awareness and competitive spirit. Peels back to knock down unsuspecting defenders in pursuit of ball-carriers. Experienced left and right tackle and some view him as a potential guard convert due to his power and tenacity."
We give up a high pick next year but add great talent that each player can contribute immediately and we add options with return specialist that also solidify our secondary.
We have to address safety depth via street FA or possible late camp cuts.
[ Edited by CWin4949 on Apr 17, 2014 at 6:51 AM ]