rd. 1: jason verrett, cb, tcu - high-level slot corner. an alpha competitor. fills big need.
rd. 2: donte moncrief, wr, ole miss - big, strong, very good hands, quick for his size. could become a middle-of-the-road #1 in a few years. obviously, a good receiver fills a big need on our shallow wr squad.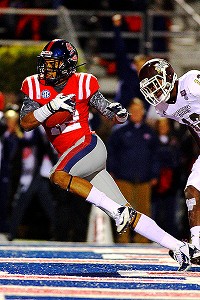 rd 2: bruce ellington, wr, s car - this guy will become a top-3 nfl slot receiver and returner. need filled.
rd 3: pierre desir, cb, lindenwood - has the athletic tools to line up against #1 receivers. it'll take a year or two to make that happen. good investment.
rd. 3: jared abbrederis, wr, wisc. - polished technician who will use his skill to get open and be clutch when needed. i see him putting on a good 10 lbs of muscle because he needs to, and this guy works. watch him work himself into a #2 wr in the future. need filled.
rd 4: deandre coleman, dt/de, cal - good combo of movement and power, who is physically ready to handle nfl work. he could easily be a starter in his 2nd year. we have a lot of mileage at 5-tech. fills need.
rd. 4: craig loston, ss, lsu - he's a junkyard dog who will become a starter after some refinement and nfl wisdom. need filled.
rd. 5: aaron murray, qb, georgia - polished, savvy, backup for the long haul. need filled.
rd 7: aaron colvin, cb, oklahoma - pretty much a sure thing once the knee heals. value pick. fills future need.
rd 7: ty zimmerman, fs, k st - a replacement for dahl who is better than dahl. need filled.
rd 7: andrew jackson ilb, - big bruiser to give some depth and security inside during camp and reg season until bowman returns 100%.