Pre Combine Mock
(close enough)
Restructure
Carlos Rogers
pay cut from 8 mil to 4 or 5 this year.
Okay, Carlos has his fair share of haters on here but IMO he's a top 3 Slot corner. It's a very difficult position to play
because unlike other corners who can use the sideline he has to defend a two way go against typically quicker receivers.
In the last 3 years he's played in the slot way more than any other corner in the league. (because he's good at it)
2011 to 2013
Snaps QB Rating into Coverage snaps per yards giving up
in the slot players coverage Reception per coverage snap
Carlos Rogers 1259 77.3 10.63 1.05
Captain Munnerlyn 1017 96.8 8.77 1.22
Chris Harris Jr. 936 73.4 9.27 1.28
Cortland Finnegan 749 98.16 8.37 1.25
Kyle Wilson 723 80.10 10.30 1.05
Antoine Winfield (2010-12) 899 73.93 8.43 1.07
Eric Wright (2010-12) 518 89.17 9.3 1.34
Re-sign
Anquan Boldin WR
He's too important to let go if we want to make another run. He's also invaluable in teaching the younger WRs
how to be pros.
He'll probably want something similar to Reggie Wayne's contract last year.
4 year $17.5 million, with $7.5 million guaranteed.
YEAR BASE S. BONUS CAP HIT
2014 2,500,000 2,500,000 5,000,000
2015 2,500,000 2,500,000 5,000,000
2016 5,000,000 2,500,000 7,500,000
Perrish Cox CB
Cheap for depth, adds ST value unlike Eric Wright.
Michael Wilhoite ILB
Give him the lowest tender. I'm not of fan of Wilhoite starting for Bowman at ILB, I think he's terrible. But he is
a very good ST player. But he knows the system so we'll see if he wins the job.
Extend
Kaepernick
Crabtree
Bruce Miller
Chris Culliver CB
Imo he's going to be the best corner on the team this year. I hope we can sign him to a contract similar to Brock's
4yr 14,000,000
Won't re-sign
Donte Whitner SS
Great player, will be missed, but cant't afford. He'd be justified wanting a contract similar to Dashon Goldson's
considering he's out played him for most of the last 4 years. But at the very least would want a contract north of
LaRon Landry's 4 year 24 mil contract.
Jonathan Goodwin C
Tarell Brown CB
Manningham WR
Anthony Dixon RB
Colt McCoy QB
Eric Wright CB
Demarcus Dobbs DL
Free Agents
Graham Gano K Carolina
Dawson is awesome but he's 39. Then were in the same situation next or the year after looking for a kicker.
Gano was 24-27 and 6-6 over 50 yards this year. His avg kickoff dist was 72 yards, second best in the league and
had the lowest % of Kickoffs returned in the league. Which could lessen the importance of so many ST only type players.
I doubt Gano makes it to FA, so Hauscka, Cundiff and Folk could be options.
Husain Abdullah SS Kansas City
A good veteran option if whatever rookie we draft isn't ready to start. And is a huge upgrade over Dahl. Abdullah
graded out positively ever year of his career (Pro Football Focus). While Dahl has graded negatively (by a lot most times) every
year he has played. Both are good on ST's but we will only keep one of them.
Desmond Bishop ILB Minnesota
Should be a veteran min contract, 30 years old coming off a couple IR seasons but if Bowman is going to return
at midseason we'll need someone better than Wilhoite.
Tarvaris Jackson QB Seattle
Upgrade over McCoy, cheaper and doesn't have aspirations to start like Vick, McCown or Freeman.
Kellen Clemens wouldn't be a bad plan B.
DRAFT
1st (30)
ALLEN ROBINSON WR
Penn State
6'3" 210
Better change of direction, route running, hands and overall receiver than Kelvin Benjamin IMO.
2nd (56)
KYLE FULLER CB
6'0" 194
Virginia Tech
Will be trained to take Rogers job for next year.
2nd (61)
ED REYNOLDS S
6'2" 206
Stanford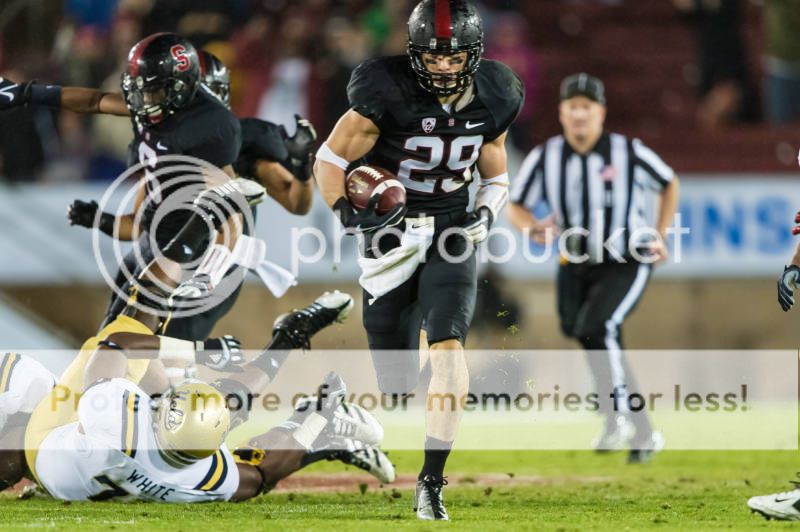 3rd (77)
DION BAILEY S
6'0" 200
USC
We need one of these rookies to replace Whitner, so lets improve our odds.
3rd (94)
MARTAVIS BRYANT WR
6'4" 200
Clemson
Finally an outside deep threat that can go up and attack the ball and Kaep can actually air it out to.
4th (125)
SEANTREL HENDERSON OT/OG
6'7" 331
Miami
Backup T/G that could end up replacing Iupati unfortunately.
4th comp
GEORGE UKO DE
6'3" 275
USC
Could be a situational Pass rusher until he adds some bulk. Eventually replacement for Ray or Justin.
Trade Kendall Hunter + our 6th (189) to CLE for their 5th (133)
RUSSELL BODINE C/G
6'3" 310
North Carolina
I know that Killgore is going to get the job but he's a FA at the end of the season and he isn't really a know commodity.
5th (158)
LOGAN THOMAS QB
6'6" 250
Virginia Tech
Physical freak, huge arm, needs coached up.
7th (219)
DRI ARCHER WR
5'8" 175
Kent State
Explosive returner, Slot receiver and emergency back.
7th (220)
AARON COLVIN CB
6'0" 186
Oklahoma
Aaron Colvin torn his ACL at Senior Bowl practice.
Was projected to be a 3rd to 4th round pick prior to injury. It's what we do. Low risk.
7th (222)
COLT LYERLA TE
6'5" 250
Oregon
BIG character concerns. Would have been a very high pick. Low risk.
7th comp
GEORGE ATKINSON III RB
6'1" 220
Notre Dame
Buried in a crowed backfield at Notre Dame. Imo his best football is ahead of him. Outstanding kick returner.
Roster
QB Kaepernick, Jackson, Thomas
RB Gore, Lattimore, James, Archer
FB Miller
TE Davis, McDonald, Lyerla
WR Crabtree, Boldin, Robinson, Patton, Bryant, Archer
LT Staley, Boone
LG Iupati, Henderson
C KillGore, Bodine
RG Boone, Looney
RT Davis, Henderson
LDE McDonald, Jerod-Eddie, Uko
NT Williams, Dorsey, Dial
RDE Smith, Carradine, Uko
ROLB Smith, Skuta
RILB Willis, Wilhoite,
LILB Bowman(pup), Bishop, Fleming/Moody
LOLB Brooks, Lemonier
CB Rogers, Brock, Culliver, Fuller, Cox, Colvin(pup)
FS Reid, Spilman, Bailey
SS Reynolds, Abdullah/Dahl, Bailey
LS McDermott
P Lee
K Gano
PR James/Archer
KR Archer/James
PS
Lawrence Okoye DE
Carter Bykowski OT
George Atkinson III RB
Darryl Morris CB
Dax Swanson CB
Alex Debniak FB