Resign
WR Anquan Boldin- 1 or 2 year deal
~ Class Act and great leader. He also developed chemistry in a short time span with Kaepernick. Boldin is a huge asset in grooming the future WR corps.
K Phil Dawson- 1 or 2 year deal
~ Great all weather kicker. He is very accurate up to 50 yards. Only issue is touchbacks on kickoffs. We keep him for another year or two while we wait for a long term younger kicker to come along.
S Donte Whitner- 3 year deal
~ By all accounts Donte is loved and looked at as a leader for this team. He means more than just his play on the field. He is a great run support Safety and improved on his coverage skills last year.
I
LB Michael Wilhoite- 1 year deal
~ Played well when called upon last year. He is an above average back up and provides depth behind Bowman if he needs extended time coming back. We give a year to show his skills to the rest of the league to set him up for a new contract.
CB Eric Wright- 1 year deal
~ Didn't see the field often last year and was passed by Cox when his opportunity came for playing time. Being from the bay area, he will sign a one year deal to prove to the other 31 teams that he is worth a multi-year contract going forward. He provides depth at several CB positions at the worst.
Let Walk
CB Tarell Brown
~ With looming contract extensions for several players, Brown is the odd man out. It will come down to a decision to keep Brown or Whitner. Whitner is clearly the one to stay.
CB Perrish Cox
~ The front office lets him walk with Morris developing into a solid prospect and Culliver coming back from injury. He really is only a nickel db so lack of versatility costs him.
R
B Anthony Dixon
~ Log jammed behind multiple backs, Dixon will look to get a true back up role elsewhere. He is a solid teams guy but can be replaced.
D
E Demarcus Dobbs
~ Dobbs is at a position of strength behind several others. With Carradine coming back, he will not be needed.
C Jonathan Goodwin
~ A candidate to retire. He will be 35 next year and was serviceable at Center. We let Kilgore and a mid to late round prospect battle it out for the starting job next year.
WR Mario Manningham
~ Riddled by injuries, Mario will have to get his career on track elsewhere.
QB Colt McCoy
~ Not really a fit to manage the type of offense that is currently being used. He was rumored to be on the trading block in the pre-season. Not sure the staff is overjoyed about his future in the bay area.
WR Kassim Osgood
~ Great teams guy who played sparingly at WR. He is getting up there in age and will be looking for a deal north of what he was making last year.
FB/DL Will Tukuafu
~ With Miller coming back and extensive depth at the defensive line position, Tukuafu will not see a spot on the roster.
Release
CB Carlos Rogers
~ Rogers saw a year last year where he dropped off in production. He is getting long in the tooth and is due a large sum of money the next two years. After his hamstring injury late in the year, he was delegated to the nickel back spot when healthy. Rumors last year where that management threatened to release him if he didn't take a pay cut until Culliver went down with an ACL injury. This year the front office cuts bait and saves money towards future extensions.
WR Jon Baldwin
~ After the trade from KC, Baldwin didn't sniff modest playing time. He was inactive multiple weeks with an illness and couldn't get on the field behind a rookie WR. He really doesn't have much potential anymore on this team.
Restructure
RB Frank Gore
TE Vernon Davis
Free Agent Signings
CB Sam Shields
~ Shields is one of the quickest corners in the game. He has good ball skills and can cover the slot receiver. With Harvin and Austin in our division, Shields provides a great match up for the defense. He is a cheaper, younger and better option over Rogers long term.
QB Josh Freeman
~ Freeman had a nightmare of a season through the media after signing with the Vikings after being released. He will not get a starting job on the open market and will have to settle for a backup role. Harbaugh and company were after him last year and they obviously love the idea of having him as insurance for Kaepernick.
ILB Blake Costanzo
~ Blake is coming off of a two year deal with Chicago after leaving the bay area. He was a special teams ace while he was here and has expressed an interest in coming back. With Dixon and Osgood gone, Costanzo can fill the void. He also is a capable backup at ILB.
WR Darius Heyward-Bey
~ Since being drafted, Heyward-Bey has not maximized the potential everyone saw coming out of Maryland. He had a mixed bag of results with Indianapolis last year. He has issues with drops and route running. However, there are no doubts about his elite speed. The team needs speed badly and he will be given an opportunity to produce. He will be a fairly cheap sign with others like Maclin and Nicks ahead of him on the open market.
2014 NFL Draft
Round 1
*Trade '14 1st & 3rd (own) to Cincinnati Bengals for their '14 1st (24th overall)*
WR Odell Beckham Jr. Louisiana State
~ Beckham comes from a program that is pro ready in its offensive scheme and attack. He is a standout returner and a polished receiver that shows a physical playing style. Odell can get behind the defense with plus speed and will run through the trenches as well. His hands are very large in respect to other receivers in this class. He provides a solid option behind Crabtree and Boldin for Kaepernick with potential to develop into a game changing receiver after Boldin is gone. Some may question the move to trade up to get him but the fact is that we will target players and make the move to acquire them. We can't use all of the picks and there is no guarantee that he sticks to our pick at 30 overall. Beckham is a solid pick that can contribute right away in two different phases.
Round 2 (Chiefs)
DE/OLB Jackson Jeffcoat Texas
~ This guy was an absolute stud for Texas during his career. He is a true pass rush prospect that is athletic enough to cover on the edge and play the run. You can never have enough pass rushers and I see a true need for another guy to get after the QB in Fangio's rotation. Jeffcoat has shown the ability to bull rush as well as use many different technically sound moves to get after linemen. The question will be can he bulk up to play DE or will he transition to OLB in the 3-4 scheme we run. Either way, he will get after it on the defensive end and force his way onto the field.
Round 2
OG Gabe Jackson Mississippi State
~ Put on the Mississippi State tape and you will see a masher of a lineman in Gabe Jackson. He is a physical and big Guard who makes his hay in the run game. He gets nasty off of the ball and finishes blocks well. He needs work in pass protection but is serviceable in that area. He will provide depth his rookie year and be ready to start once Iupati reaches Free Agency. I truthfully believe Iupati will not resign with Aldon, Kaep and Crabtree looming for extensions.
Round 3
*Trade '14 3rd (Titans) & 6th to New York Giants for their '14 3rd (74th overall)*
WR Martavis Bryant Clemson
~ Many are familiar with Sammie Watkins from Clemson and his prospects as a pro. Bryant showed flashes of great play behind him in college. Their coaches have said that Bryant is the most gifted player physically that the program has ever had. He comes with a package of size, speed and pure ability that is intriguing for any GM. Although he is a freak of nature, he comes with many question marks as well. Questions about route running, motive and general knowledge of the game have risen when talking about Bryant. He will benefit from learning behind Crabtree and Boldin for a year. He will also provide an insurance option for Crabtree if he does leave in free agency after next year.
R
ound 3 (Compensatory)
CB Bashaud Breeland Clemson
~ Breeland really stood out after following Clemson all year. He has good size and natural ability to play at a high level in the NFL. He is very competitive and makes good instinctive plays in the run game. There is room for improvement in his man coverage technique. He fits well in a zone coverage scheme as it is his best and most comfortable technique. Bashaud can develop like Tarell Brown did for us. I think he is a better athlete than Tarell Brown and he can become a solid CB in the near future.
Round 4
OT James Hurst North Carolina
~ Hurst is a big tackle who plays with a mean streak. He is a good enough pass protector and excels against the run. He suffered a broken bone in his leg during the bowl season which has dropped his value from the second or third round to the fourth or fifth. Hurst will provide depth and may be a candidate to be placed on the injured list if the front office feels that he needs more time to heal.
Round 5
C Marcus Martin Southern California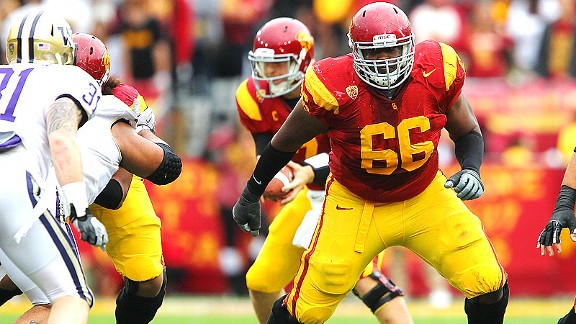 ~ With Goodwin likely gone in the off-season, Martin is a great option to fill the void at Center. He is very athletic and plays with good bend. Kilgore and Martin will battle it out in training camp for the starting job. He hasn't played Center all that long so his stock is a little lower than guys like Swanson, Richburg, etc. I truly think he has the most potential out of any of the Center prospects in this class.
Round 7 (Saints)
FB Trey Millard Oklahoma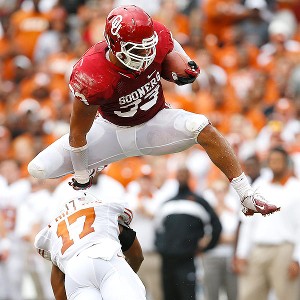 ~ Millard is a versatile prospect who can line up at H back and provide an option for Kaepernick out of the backfield. The typical stash and follow prospect for a team like the 49ers with multiple draft picks and few roster spots.
Round 7 (Colts)
CB Aaron Colvin Oklahoma
~ Colvin is another intriguing stash and follow guy that tore his ACL during Senior Bowl week. He was a solid mid round prospect before the injury and showed good ball skills during his career. Aaron will provide depth and insurance at CB in the future.
***Trade other two '14 7th Round picks for future '15 picks***
[ Edited by HarbaughzDeep on Feb 3, 2014 at 7:24 PM ]