Here's my latest updated mock draft, in this one I do have one trade. As I look around at what is going on with the draft picture, I feel more strongly than ever that the 49ers should trade down a bit into the 2nd round barring some prospect that they are completely sold on drafting, like a guy like Marqise Lee dropping quite a bit for example.
(49ers trade down with Oakland, swap 1st rounders, gain Oakland's 4th round pick, Oakland moves up to secure a QB.)
Round 2
-
LaMarcus Joyner-5'8", 185-CB/FS-Florida State
. I love the thought of this pick, Joyner is a gamer, a playmaker, a powder keg waiting to explode. He hits hard, plays smart, a guy who absolutely loves to play football, a natural leader out on the field, someone who could come in and make a huge impact as a nickel corner and perform on special teams. If there's an injury at safety, you can move him out there as well. In Fangio's defense, the nickel corner is more or less like a starter so if the 49ers are indeed going to part ways with Carlos Rogers, I want an athletic, quick, hard-hitting, sure-tackling player and a monster coming off the edge on blitzes to replace him. Joyner is all of that, he's a utility defensive back that simply makes plays. You can never have enough playmakers on a football team and that word describes him perfectly.
Round 2-Ahmad Dixon-6'0", 205-SS-Baylor
If Whitner walks, 49ers will need a strong safety, even if he stays on a short-term contract, they need someone to back him up. Dixon is a player with a lot of potential, an extremely athletic safety that excels in run support. A high quality open field tackler, very enthusiastic player, great locker room guy, puts the time in watching film to pick up on opponent's tendencies, not as fluid in coverage as you might like ideally but he has improved there and shows the willingness to continue to develop as a safety in the NFL.
Round 2-Donte Moncrief-6'2", 220-WR-Ole Miss
I'd love to take an Odell Beckham or a Jarvis Landry here but I suspect both of those guys will be long gone. Moncrief is the guy with the best upside at this point as a WR. Still needs to develop as a route runner but is similar to Josh Gordon in a lot of ways. Very good frame and leaping ability, attacks the football aggressively in the air, has some wicked moves to get separation, absolutely brutal with his double move to beat defensive backs, strong enough to handle press coverage, a vertical threat down the field with big soft oven mitt hands. Catches the ball mostly away from his body.
Round 3-Robert Herron-5'9", 180-WR-Wyoming
. Deep threat, pure speed downfield, a guy at wide receiver who blow past defender's and force defense's to stay honest. Some aren't big fans of his, I think he can be a better NFL player than college player. Explosive, if he gets a step on you, he's gone. Combine that with Kaepernick having a huge apm and he adds a new dimension to this offense entirely for the receivers. He shows terrific quickness and ability to get in and out of his breaks, could be a monster in the slot, short-range quickness and deep downfield speed. Above all else, 49ers need to inject more speed on offense, Herron brings that in spades. 4.3 speed and outstanding quickness, a guy who can beat you deep or on a slant play and take it the distance. Has received a lot of praise for his ability to create separation at the Senior Bowl and that's exactly what the 49ers need.
Round 3-Bashaud Breeland-6'0", 190-CB-Clemson
. A guy that is flying in under the radar. I think it was a mistake for him to come out early but some team will be the beneficiary of that. One of the top CB's in the ACC, very talented corner, especially does well in man coverage, very physical, instinctive player, a solid tackler, has a lot of room for improvement and a lot of upside. You could consider this a "buy low" type prospect. Had he stayed in at Clemson I think he could have been a potential late 1st round pick next year.
Round 3-Lamin Barrow-6'1", 230-ILB-LSU
. I like Barrow a lot, he can play inside or outside, extremely instinctual player, always rushing to the ball, diagnoses plays correctly, not fooled often by screens or misdirection plays. Plays relentlessly, has the athleticism to drop back into coverage and hold his own there. Very fundamentally sound tackler, a good blitzer off the edge or up the middle as well. Very experienced performer. I make this selection because with Bowman's combined ACL/MCL injury, I don't expect him back until late next season. Wilhoite was nothing to write home about when he did play and Moody never got much of a chance to perform. Barrow is a guy who can come in and compete for a position, either starting as an inside linebacker from the get-go or providing valuable depth and contributing on special teams.
Round 4-Tyler Larsen-6'4", 315-C-Utah State.
Experienced center, ready to start as a pro if needed, which would be good if Kilgore ended up flopping. He's a prototypical player for the kind of blocking scheme the 49ers have, I'd love to see him drafted here, very tough, resilient and hard working guy.
Round 4-Justin Ellis-6'1", 350-NT-Louisiana Tech.
Back to back years that the 49ers select a 4th rounder from Louisiana Tech. Ellis has been extremely impressive in offseason workouts, showing a very quick first step for a guy his size. It would be intriguing to see him working with Tomsula, giving the 49ers a potentially massive body to clog up the middle on run downs.
Round 5-Aaron Murray-6'0", 205-QB-Georgia.
I think the injury plus his size overall will lead to him dropping even further than originally expected. This might be a bit optimistic but if he's here, he's a steal and instantly provides the 49ers with a credible backup QB. One of the most NFL ready QB's in the draft. Tremendous value at this point.
Round 6-Aaron Colvin-6'0",190-CB-Oklahoma.
Redshirt him for a year. 2nd round value at the back end of the 6th round. Physical, hard-hitting corner with solid coverage technique, good footwork, also a reliable tackler. Stupid, potato level value here at this point. Put him on the shelf, let him heal up, recover and bring it in 2015. Even if Culliver walks next year, you've got Breeland and Colvin there, ready to fight it out over who starts opposite Tramaine Brock, no need to panic and have to draft a CB early.
Round 7-Spencer Long-6'4", 320-OG-Nebraska
. See Colvin. Let him recover from his injury, 49ers can keep him on the IR, let him learn the offense, have some practice time late in the season, he's a hell of a guard prospect, a potential 2nd rounder that will fall all the way down the boards due to his injury, even more ridiculous value than Colvin at this point.
Round 7-Alden Darby-5'10", 190-SS-Arizona State.
Hard working guy, on field leader, a playmaker, smart player who is terrific value at this point, someone with good athleticism who can contribute on special teams and more.
Round 7-Trey Millard-6'2", 250-Swiss Army Knife-Oklahoma
. Let's keep the 49ers injury clinic rolling, going to become a full-blown infirmary. Millard is a guy with a ton of talent who suffered an unfortunate injury, he was looking like a 3rd round prospect before he was injured. He can play FB, TE, WR, he kind of does it all, very impressive athletically, hard worker, the kind of guy that could bump Celek off the roster. Millard has a lot of versatility and is a more polished version of Marqueis Gray whose release in the offseason caused so much lamentation. Roman would absolutely love this guy, put him at FB, move him out as a receiver, he does great in the open field, would essentially let the 49ers run a 3 TE set with him playing as a fullback.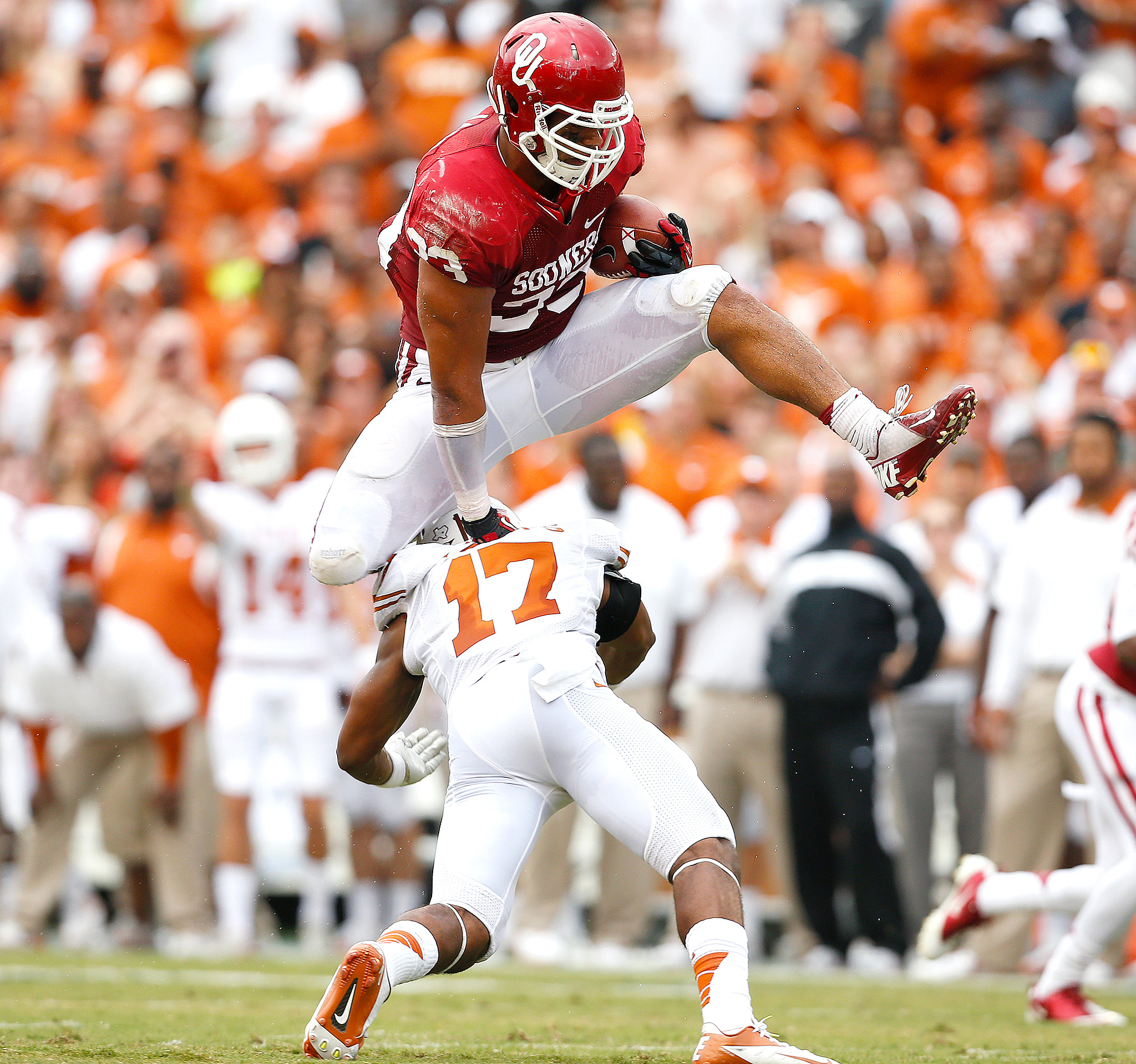 [ Edited by Phoenix49ers on Jan 24, 2014 at 6:33 PM ]