Basic mock, no trade's, just straight up going with the picks the 49ers have and based on what I perceive various needs to be across the team and who I think the team is likely to/or not to re-sign.
Round 1-Darqueze Dennard-5'11", 190-CB-Michigan State
I'm becoming a bigger and bigger fan of his, I see him as a guy who has outstanding potential at the NFL level and would provide instant depth at CB and a potential rookie starter in case Brown does not get re-signed. Tremendously athletic, displays outstanding instincts and awareness in coverage, he's a flat out baller and has been a rock for a dominating MSU defense. Particularly good in press coverage, physical, teams often look to throw away from his general direction. Does not nearly get enough hype for his excellent level of performance. Needs to be a more consistent tackler, technique needs work but he seems to be more than eager to lay the big hit when he gets a chance. Has 3 INT's so far this season.
Round 2-Donte Moncrief-6'2", 225-WR-Ole Miss
. Moncrief has struggled at times this season, teams have been making it a point to lock him down, Ole Miss has had issues with their QB play but there's a lot to like about Moncrief, he's still very physically dominant, tough, built strong, ability to go up and make plays on passes as well use his body to get separation. I think he'll be a better NFL than college receiver, if he falls this far, he'd be a HUGE steal. Similar to Josh Gordon in many ways. Would be happy to see the 49ers trade up for him even.
Round 2-Tre Boston-6'1", 200-S/CB-North Carolina.
Boston provides outstanding versatility on defense. He's played cornerback and safety and projects to safety at the next level He's terrific in coverage, has the size and athleticism to hang with bigger receivers as well as smaller, quick slot receivers. My ideal selection would be Craig Loston, but he'll be gone before this point, yet I think the 49ers still need another quality safety, whether or not Whitner returns, unless you enjoy the idea of Dahl as the backup once more.
Round 3(Titans Pick)-Daniel McCullers-6'7-350-NT-Tennessee.
I don't know that Mt. McCullers will still be here, but more than ever I think this season has shown the value of a high quality NT. Its unknown what quantity Dial presents to this team, and both Williams and Dorsey are on short term contracts. Watching Green Bay controlling runs up the middle with their massive bodies further increases my desire for the 49ers to get a true NT, a massive monster in the middle that can require multiple blockers and collapse the pocket. McCullers has lost quite a bit of weight and it shows this season, he has held up fairly well and his massive size would be quite welcome to the 49ers defense. He's freaking tall for an NT and is able to bat down passes plus obscure passing lanes for those QB's who one might consider vertically challenged. A young group of Carradine, Dial and McCullers would be tremendous for the future of this defense.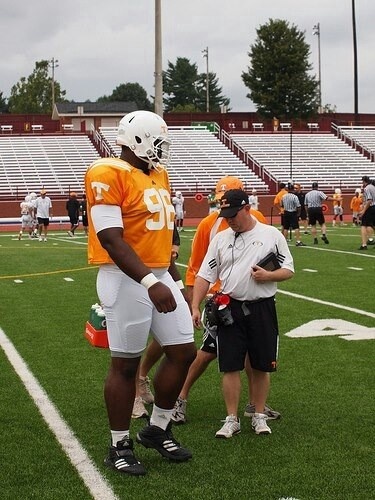 Round 3-Robert Herron-5'9", 188-WR-Wyoming.
The deep threat that the 49ers need. Simply a guy who can go deep and stretch out a defense that has to allow for his considerable speed. As far as his speed goes, he's basically got track star speed and it shows out on the football field as he has made some HUGE plays for Wyoming throughout the years. He especially lit up Texas last season, had a massive game that caught nationwide attention. He doesn't have outstanding lateral quickness, but pure speed that makes him a dangerous vertical threat, he can blow by pretty much anyone and win any foot race down the field. Beyond that he's got very good hands, catches with his hands, not his body, he needs to improve a lot as a route runner but in terms of a weapon to stretch a defense, he looks like a good one.
Round 3(Comp Pick)-Ricardo Allen-5'9",185-CB-Purdue.
Another guy that I become a bigger and bigger fan of. Love this guy's attitude, he's a smaller defensive back but feisty, doesn't back down from a challenge, talks a lot of smack but is able to back it up usually. Projects to be a quality slot corner in the NFL, a guy who can handle the smaller, quicker, shiftier receivers. With the possibility of Brown, Rogers and Cox being gone next season, Allen would help to replenish the CB position, he could also contribute on special teams as well as a slot corner.
Round 4-Morgan Moses-6'6", 330-OT/OG-Virginia.
Moses is a highly experienced starter, has played at both right and left tackle, could possibly do better moving inside at guard in the NFL, he would represent depth at both positions for the 49ers. Built very strong, broad body, violent hands, very good run blocker.
Round 5-Jeff Matthews-6'3", 225-QB-Cornell.
Has been drawing a lot of attention from NFL scouts, has good size and a prototypical NFL arm with a very quick release. Highly intelligent as might be expected from an Ivy League guy, film study addict, very confident, a natural leader, needs to improve his mechanics and footwork but a guy with a lot of potential who could end up being a very good backup QB/borderline starter in the NFL. California native.
Round 6-Corey "Philly" Brown-5'10", 185-WR-Ohio State
-Pure speed, better athlete than receiver but has developed considerably. Could contribute on special teams while he develops as a WR. If he runs some ridiculous 40 time as expected at the Combine, it might push him up further than this, but based on his skill level, this is a good place for him. I see him kind of like a poor man's Ted Ginn, an explosive presence on special teams and a potential deep threat on offense.
Round 7-Dakota Dozier-6'3", 310-OG-Furman.
Very dominant, hard-nosed smaller school guard, plays with a chip on his shoulder and simple another body to throw into the meat grinder and hopefully see this team develop a semblance of depth on the OL.
Round 7-Phillip Gaines-5'11", 190-CB-Rice
. Smaller school defensive back, defensive leader, outstanding body of work with some injury issues. Ballhawking defensive back that does a great job of breaking up passes, good footwork, very fluid with decent athleticism.
Round 7-Daniel Sorensen-6'1", 210-S-BYU
. Mature, very driven, hard-working guy with football running all throughout his family. His brother Brad is a rookie QB playing for the Chargers. Good size, physical, very intelligent, rarely out of place, the best piece on a quality secondary. Productive player is worth a look at a possible roster spot, even if just as a special teams contributor. This pick especially becomes important if Whitner bounces.
Round 7-Tevin Mims-6-3, 250-DE/OLB-South Florida.
Athletic, quick off the snap, natural pass rusher who likely will have to move to OLB at the next level, a quality prospect to take a look at, possibly develop a 3rd down pass rusher and also provide a boost on special teams.
[ Edited by Phoenix49ers on Nov 4, 2013 at 11:35 PM ]