Sutton went from about 270 to over 300 pounds and it has really been hurting him, he's still done decently but he's nowhere near the same player, has lost a considerable amount of quickness, its pretty clear that he's not going to be able to play in the NFL at that weight. He clearly fattened up and it has been detrimental to his game as a whole.

Arizona State DT Will Sutton is viewed as an enigma in NFL circles. The 6-foot-1, 307-pound interior defender entered the season regarded as one of the best pass rushers in the country after posting 12 sacks a season ago, but scouts I've talked to are wondering if Sutton has lost his edge after gaining nearly 20 pounds in the offseason. Talking to several evaluators at the Arizona State-Wisconsin game this weekend, I had a few guys tell me that Sutton looks sluggish and lacks the explosiveness that was a hallmark of his game in 2012. An AFC North personnel executive told me that Sutton has added "bad weight" and that his weight gain has taken away from his biggest assets -- speed and quickness. An NFC West scout suggested to me that Sutton needs to get in better shape and get his motor running to become the difference-maker some envision as a situational interior rusher in the NFL.
Yeah dude has some serious fat-cepts going on.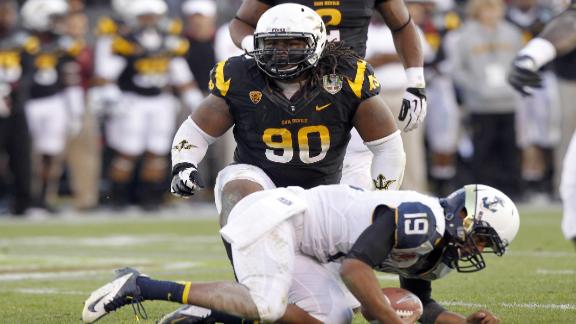 [ Edited by Phoenix49ers on Oct 16, 2013 at 8:14 PM ]