While all "sexy" picks, I know many won't like this draft due to the luxury picks. My methodology was simply to draft the best player available based on film with a goal of looking towards the future. While we may have starters on our roster now at some of these top picks, some of these positions (OLB, WR, RB, etc.) are just as big a need as FS a year from now with the potential departures of several players with expiring contracts.
All feedback is welcome
1) Keenan Allen- WR, Cal- 6'3, 205 lbs (2x 1st Team All Pac 12, 5 star recruit out of HS)
A true luxury pick. Keenan Allen would be a top 5 pick based on film alone. He is a complete WR with height, and elite ability to get seperaton, YAC, and agressivley go get the ball. similar to Crabtree and Boldin, teams will be kicking themselves for passing on Allen 2 years from now. Boldin is on a 1 year deal. He can groom Allen and Allen would become his eventual replacement. Imagine Crabtree, Allen, Jenkins as our 3 wr's of the future. This pick also has the added value of giving us leverage when negotiating Crabtree's next contract.
2) Damontre Moore- OLB, Texas A&M- 6'5, 260 lbs (1st team All-SEC)
This, along with Allen, is a luxury pick that is possible due to other teams overvaluing offseason evaluations. Moore has been extremely productive and looked like a top 10 pick on the field. In 2010 as a freshman he recorded 5.5 sacks, 2011 8.5 sacks, and 2012 12.5 sacks with 20 TFL. He won All-Big 12 as a freshman, All-SEC as a sophomore, and First Team All-SEC as a junior. As a plus he has also played as an OLB, starring in the joker role for A&M in 2011 so it is not a stretch to project him standing up in our defense. He does have character concerns, but the 49ers have a strong locker room and the value is too good to pass up. Adding Moore will allow us to rotate our OLB to keep Smith/Brooks fresh and get creative on 3rd downs by shifting Aldon Smith to the DL and have Moore/Brooks at OLB. We follow the NY Giants formula of adding pass rushers every chance they get. As a plus this will also give us leverage when negotiating Aldon Smith's next contract.
2) John Jenkins- NT/DE, Georgia- 6'4, 330 lbs (30 reps at 225, 5.2 in the 40, 2nd Team All-SEC)
Jenkins was a consensus 5 star recruit coming out of JuCo and contributed immediately for an elite SEC defense. Going into 2012 most analysts had pegged Jenkins as a top 10 pick. Jenkins shows flashes of absolute dominance and has rare quickness for his size. He won second team All-SEC in 2012. The biggest knock on Jenkins is that he lost motor late in games due to his ballooning weight (up to 370 last year), but he has since slimmed down to 330 and in our system he will have the luxury of rotating him in with guys like Dorsey, Williams, and McDonald. By keeping him fresh and in a strong locker room, we stand a chance to get the most out of this immensely talented kid.
3) DJ Swearinger- FS, South Carolina- 5'11, 208 lbs (4.65 in 40, 2nd Team-All SEC)
Who else to replace Dashon Goldson but a Dashon Goldson clone. Swearinger has been a proven and productive player for the Gamecocks and is a great fit for our defense. He is a top 5 cover safety in this draft with a nasty streak that loves to land the highlight reel hits. Extremely similar to Goldson's style that fit the Niners and great value at the top of round 3. Swearinger has proven great coverage ability and versatility as he shifted between FS and corner in 2012.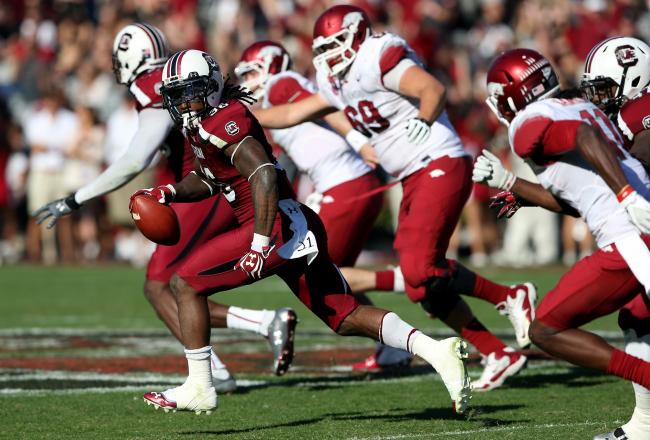 3) Travis Kelce- TE, Cincinnati- 6'5, 255 lbs (4.62 40 yd dash)
Kelce is a perfect fit for our offense due to his versatility as a TE. He is an elite blocking TE that has the gifts to be a top 20 receiving TE in the NFL. He is the best fit for our run-heavy/te-heavy offense in this entire draft and provides great value at this juncture. He played qb in highschool and played some wildcat in goal line formations for Cinci as a testament to his versatility. He would be a much higher pick if it weren't for being suspended the entire 2010 season for unknown issues.
4) Marcus Lattimore- RB, South Carolina- 5'11, 220 lbs (Freshman All-SEC)
Lattimore was a consensus 5 star recruit out of HS and a consensus ALL-SEC Freshman and NCAA All Freshman runningback This is the luxury pick you can make when you have so many draft picks and a great starting RB who likely only has 1 year left in him and a 1st/2nd round prospect who will need a year to fully recover from his injuries. Lattimore will go on the IR and then be our starting RB in 2014/2015. Perfect fit for our team given the circumstances.
4) Tyrann Mathieu- CB/KR/PR/ST, LSU- 5'9, 186 lbs (1st Team All SEC, Chuck Bednarik Winner for best defensive player in college football)
I think Mathieu has the ability to be an elite corner in the slot and more than anything an elite special teams ace who can cover and return punts/kickoffs. He is a great fit due to our need for both a nickel corner and PR. Signing him will allow us to cut some of our one-dimensional ST players to save roster space. This kid has been a true playmaker since his freshman year. As a freshman he recorded 7 pass breakups, 8.5 TFL, 4.5 sacks, 3 recovered fumbles, and 2 interceptions only to follow it up in 2011 as the 5th heisman runner and winner of the Chuck Bednarik award for nations best defensive player with 70 tackles, 6 forced fumbles, 5 recovered fumbles. Not to mention he was one of the top 5 punt returners in college football. He did all of this as a freshman and sophomore.
5) Khaled Holmes- C/G, USC- 6'3, 302 lbs (1st Team All Pac 12)
We finally add a true center through the draft. Holmes is as proven and battle-tested as they come. Played many games at a high level, for a great team, and has natural leadership ability. He started in 2010 at RG where he won 2nd Team All Pac-12 and shifted to center the following year where he won 1st Team All Pac 12. He also projects as a solid guard. Between Kilgore, Looney, and Holmes we will be set with versatile G/C players for the future. This will give us felxibility, depth, and a potential replacement if we let Iupati walk in FA. I think this is the year we cut Goodwin for cap room.
6) Duke Williams- SS, Nevada- 5'11, 203 lbs (4.4 40 yd dash)
We add another pick for safety depth. Williams will be the eventual successor to Donte Whitner at SS in 2014/2015 and will all but assure us that Craig Dahl does not make the roster.
6) Luke Marquardt- OT, Azusa Pacific- 6'8, 315 lbs (5.17 40)
Marquardt was a backup TE as a freshman before converting to OT where he started and excelled for 3 seasons. He doesn't get much love due to the low level of competition, but this guy has the frame and athleticism to be a starting tackle in the NFL and a backup swing tackle at minimum.
7) Lawrence Okoye- DE- 6'6, 280 lbs (4.78 40 yd dash, 4.38 short shuttle, 35 inch vert, 10-5 broadjump)
Okoye has more athletic ability than Margus Hunt and really any player in the NFL draft. Though he has not played American Football he is experienced in contact sports being a great Rugby player. This is a typical Boom/Bust pick, but given his natural ability I can't see him not being a solid depth DE in a 3-4. He has the power and quickness to do anything he sets his mind to.
7) Marcus Davis- WR/ TE, Virginia Tech- 6'3, 230 lbs(4.48 40 yd dash)
Davis may have underperformed in college relative to his ability, but his size gives him a chance to be an elite receiving threat as an NFL TE. He flashed the potential for huge plays and looked flat out dominant at times. Vernon Davis and Travis Kelce's ability as a blocker allows us to use a luxury pick on a one-dimensional TE.
2013-2014 Roster
OFFENSE
QB: Kaepernick, McCoy, Tolzein
RB: Gore, James, Hunter, Dixon (Lattimore on IR)
WR: Crabtree, Boldin, Allen, Jenkins, Williams (Manningham on PUP)
TE: Davis, Kelce, Davis
OT: Staley, Davis, Netter, Marquardt
OG: Iupati, Boone, Looney
OC: Kilgore, Holmes
Defense
DE: Smith, McDonald, Dobbs, Okoye
NT: Dorsey, I. Williams, J. Jenkins
OLB: Smith, Brooks, Moore, Johnson
ILB: Willis, Bowman, Skuta, Willhoite
CB: Rogers, Brown, Nnamdi, Mathieu, Culliver, Cox
FS: Swearinger, Robinson, Spillman
SS: Whitner, Williams
ST: Lee, Dawson, Jennings
IR: Marcus Lattimore
Notable Cuts: Parys Haralson, Craig Dahl, Jonathan Goodwin
[ Edited by 49oz2superbowl on Apr 13, 2013 at 12:19 PM ]