I got together with a couple of guys on another message board just before the combine to do a 5 round mock. I won't post the whole thing but these are my picks.
1st Round, 30th Overall -
TE Coby Fleener, Stanford
Fleener's size (6'6"), athleticism, and ability to catch the ball downfield (19.6 YPC in 2011) will be a tremendous asset to the Niners offense. With teams like New Orleans and New England thriving with big bodied TEs, it seems easy to pair Fleener with Davis and Delanie Walker. He will be a natural fit.
2nd Round, 62nd Overall
-
DE Kendall Reyes, Connecticut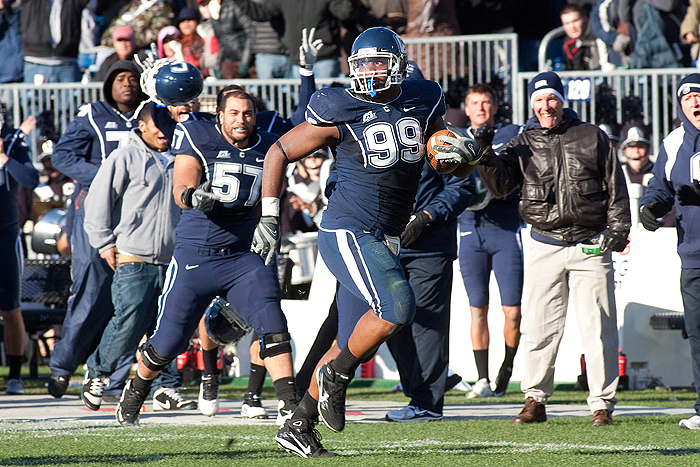 This pick was strictly BPA, The Niners could use a little more depth at DE though, as Justin Smith isn't getting any younger. Bringing in another Justin Smith/Ray McDonald clone adds a little more toughness and versatility to the DL.
Round 3, 94th Overall
-
WR Brian Quick, Appalachian State
Quick is a big, raw, athletic receiver who dominated the FCS level - which is what Baalke looks for in a small school prospect. I feel that Quick is better value in the 3rd, than, say, Stephen Hill in the 1st. I think he could stand to fill out a bit, but I see a little Terrell Owens in him. And spending a year under the tutelage of Randy Moss absolutely could not hurt.
4th Round, 126th Overall -
CB Omar Bolden, Arizona State
This pick was made before FA, so CB is not as much of a need as it was before 3/13 with the signing of Cox and re-signing Carlos Rogers. But Bolden has the upside and ability that is still too good to pass up. Bolden missed all of 2011 with a knee injury, so he brings some risk, but is a top level talent who also has value in the return game. With games coming up in '12 against top passing teams, you can never have too many CBs.
5th Round, 160th Overall
-
S Eddie Whitley, Virginia Tech
The Niners lack depth at the safety position and with Dashon Goldson being franchised tagged, his status beyond next year is in doubt. Whitley is versatile throughout the secondary and can contribute at a few spots in 2012. Reggie Smith and Madieu Williams are free agents, there has been no safeties brought in for a visit so far, so a pick here makes sense.
Thoughts?
[ Edited by Schulzy on Mar 20, 2012 at 9:18 PM ]