Class:
Senior

Hometown:
Marietta, Ga.

High School:
Pope

Height / Weight:
6-4 / 220

Position:
Quarterback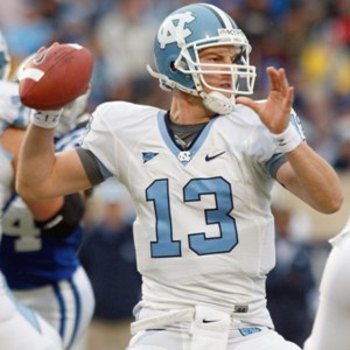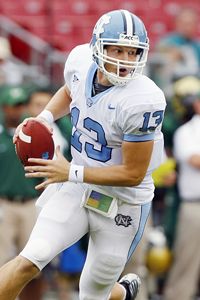 ESPN: QB T.J. Yates - Player Bio
Quote:
Closing in on several UNC career passing marks • Has started 31 games over the last three seasons • Throws a catchable ball and has worked hard to improve his accuracy • Was not a highly recruited quarterback, but drew interest from Carolina's coaches who were in Georgia in 2006 to watch a player on the opposing team • Yates had a great game and was offered a scholarship, which he accepted before coming to campus for an official visit • Also turned down several basketball scholarship offers to play football in Chapel Hill.

2009 - Junior Season
Third year as the Tar Heels' starting quarterback • Ranks among Carolina's career top two in passing yards (5,959), touchdowns (39), completions (513), attempts (855) and completion percentage (60.0) • Finished the season with 2,136 yards and 14 touchdowns on 214-for-355 passing • The 2,136 yards ranks eighth all-time on UNC's single-season list • Completed 19 of 32 attempts vs. Pitt in the Meineke Car Care Bowl with two touchdowns and one interception • Connected with Greg Little on scoring passes of 15 yards in the first quarter and 14 yards in the third quarter • Threw for a season-best 280 yards and two touchdowns on 13 of 19 passing at NC State • Both TD passes (35, 70 yards) versus the Wolfpack went to Jheranie Boyd • The 70-yarder was the Tar Heels' longest passing play of the season • Matched a season high by completing 23 of 34 passes for 182 yards and three interceptions at Boston College • Posted biggest passing day since the East Carolina win with 213 yards on 17-for-31 passing against Miami • Had a 29-yard TD strike to Greg Little and did not throw an interception against the Hurricanes • Went 16-for-28 for 119 yards in the win over Duke • Became just the second Tar Heel to surpass 5,000 career passing yards in the win over the Blue Devils • Threw for two touchdowns for the first time since the East Carolina win and was 18-for-28 for 131 yards passing in the win at Virginia Tech • Connected on TD passes of 13 yards to Jheranie Boyd and 15 yards to Greg Little versus the Hokies • Scored through the air and on the ground versus Florida State • Went 12-for-25 for 64 yards versus Florida State • Recorded fourth career rushing TD run with a 10-yard run in the third quarter and added a 13-yard passing score to Ed Barham in the first quarter against the Seminoles • Was an efficient 14-for-20 for 118 yards and no interceptions against Georgia Southern • Went 20-for-36 for 135 yards and two interceptions against Virginia • Was 11-for-26 for 137 yards and a 40-yard touchdown at Georgia Tech • Went 19-for-24 for 227 yards and two scores against East Carolina • The 79.2 completion percentage marked a career best • Threw TD passes of 16 yards (to Erik Highsmith) and 59 yards (to Jheranie Boyd) against the Pirates • Became just the fifth Tar Heel to pass for 4,000 career yards with 233 yards at Connecticut • Was 23-for-32 with a touchdown and two interceptions against the Huskies • The 233 yards marked his most passing yards since the 2007 Georgia Tech game • Engineered two lengthy fourth-quarter scoring drives to tie the game in the fourth quarter • Went 9-for-20 for 114 yards with two touchdowns versus The Citadel • Tossed TD passes of 18 yards (to Johnny White) and 21 yards (to Greg Little) against the Bulldogs.

2008: Played in seven games and started six • Suffered a non-displaced fracture to his left ankle against Virginia Tech and missed the next five games • Returned to the starting line-up against NC State and started the final regular season game at Duke and the bowl game vs. West Virginia • Passed for 1,168 yards and 11 touchdowns to just four interceptions on the season • Completed 60 percent (81-135) of his passes • In just 19 career games, ranks sixth in career passing yards (3,823) and tied for seventh in career touchdown passes (25) at Carolina • Was leading the ACC and 12th nationally in passing efficiency through three games • Completed 15 of 25 attempts for 211 yards, two touchdowns and one interception against West Virginia in the Meineke Car Care Bowl • Both touchdowns (73 yards and 25 yards) were to Hakeem Nicks • Matched a career-best with three touchdowns on 15-for-19 passing in the win at Duke • Threw for 190 yards in the victory over the Blue Devils • Touchdowns went to Shaun Draughn, Hakeem Nicks and Richard Quinn • Went 10-for-22 for 116 yards and an interception against NC State • Saw first action since Sept. 20 on the final series of the win over No. 20 Georgia Tech • Completed one of three passes for 28 yards against the Yellow Jackets • Hooked up with Hakeem Nicks on a 28-yard completion to give Nicks the UNC career receiving yardage mark • Before leaving with an ankle injury, was 11-for-18 with 181 yards and a TD against Virginia Tech • Went 14-for-22 for 221 yards and three scores at Rutgers • Long play against the Scarlet Knights was a 69-yard TD pass to Brandon Tate • Was 10-for13 over the final three quarters at Rutgers • Passed for 221 yards on 15-for-26 passing against McNeese State • Had a pair of TD passes and one interception against the Cowboys • Long play in the opener was a 71-yarder to Hakeem Nicks.

2007: Passed for a UNC single-season record 2,655 yards and 14 touchdowns • Completed 218 of 365 passes for a 59.7 completion percentage • Finished third in the ACC with 221.2 passing yards per game and eighth with a 123.62 efficiency rating • Ranks fourth all-time among ACC rookie quarterbacks in passing yardage • Also rushed for two scores • Surpassed Darian Durant to set UNC freshman records for completions and passing yards against Wake Forest • Ranked second among UNC rookies behind Darian Durant with 14 TDs passing • Set UNC freshman records for passing yards, completions and attempts • Has two of the top-10 passing yardage games in school history (ECU, UVA) • Joins Durant and Chris Keldorf as the only Tar Heel quarterbacks with two of the top 10 yardage games in school history • Three-game totals of 901 passing yards and nine touchdowns were tops in UNC history • Went 11 for 24 for 75 yards and a touchdown (9 yards to Brandon Tate) in the win over Duke • Passed for 283 yards and went 21 for 35 with a touchdown (14 yards to Hakeem Nicks) and no interceptions at Georgia Tech • Went 22 for 42 for 241 yards and two interceptions at NC State • Threw for 149 yards and a touchdown (30 yards to Hakeem Nicks) in the win over Maryland • Completed 26 of 33 passes for 236 yards and a touchdown at Wake Forest • TD came on an 11-yard pass to Bobby Rome • Passed for 285 yards on a 22 of 42 effort against South Carolina • Threw for one score (18 yards to Greg Little) and ran for another (3-yard keeper) against the Gamecocks • Went 15 for 23 for 208 yards and no interceptions in the win over Miami • Also scored his first career rushing TD on a 1-yard keeper • Threw for 182 yards on 16 of 25 passing at Virginia Tech • Was 11 for 27 for a career-low 85 yards with a career-high four interceptions at USF • Went 25 for 38 for 339 yards and three scores against Virginia en route to ACC Rookie of the Week honors • The 339 yards marked the ninth-best single-game total in school history • Threw TDs of 2 (Quinn), 4 (Nicks) and 53 yards (Nicks) against the Cavaliers • Threw for a career-high 344 yards versus East Carolina, completing 20 of 32 passes with three touchdowns • Ranked as the first 300-yard passing game for a Tar Heel since Matt Baker had 335 yards against Maryland in 2005 • The 344 passing yards is the seventh-highest single-game total in school history and the second-highest by a freshman (behind Darian Durant's 361 vs. Wake Forest in 2001) • Threw TDs of 37 (Nicks), 39 (Tate) and 51 yards (Tate) against the Pirates • Completed 13 of 18 (.722) for 218 yards, three touchdowns and one interception, in Carolina's 37-14 victory over James Madison • Tossed a 65-yard touchdown pass on the first pass of his college career to Brooks Foster • Also threw touchdown passes of 28 yards (Tate) and eight (Foster) yards • Honored as ACC Rookie of the Week for his showing against the Dukes.

Pope High School
Completed 160 of 289 passes (57 percent) for 2,305 yards and 17 touchdowns as a senior, his only year on the football team • Also rushed for 292 yards and seven scores • Also punted 34 times for 1,237 yards (36.8 avg.) with a long of 68 • Named first-team all-region and the Cobb County Touchdown Club Offensive Player of the Year • Earned Atlanta Metro First-Team All-Area honors • Ranked the No. 60 player in Georgia by SuperPrep • Coached by Bob Swank • Also played basketball and averaged 18 points, six rebounds and six assists at small forward.

UNC Biography- T.J. Yates
Stats Overview Passing

YEAR CMP ATT YDS CMP% YPA LNG TD INT SACK RAT
2007 218 365 2655 59.7 7.27 65 14 18 37 123.62
2008 81 135 1168 60.0 8.65 73 11 4 13 153.64
2009 214 355 2136 60.3 6.02 70 14 15 24 115.39
2010 282 422 3418 66.8 8.10 97 19 9 37 145.46
What do you guys think?
[ Edited by PTulini on Jan 23, 2011 at 12:41 AM ]